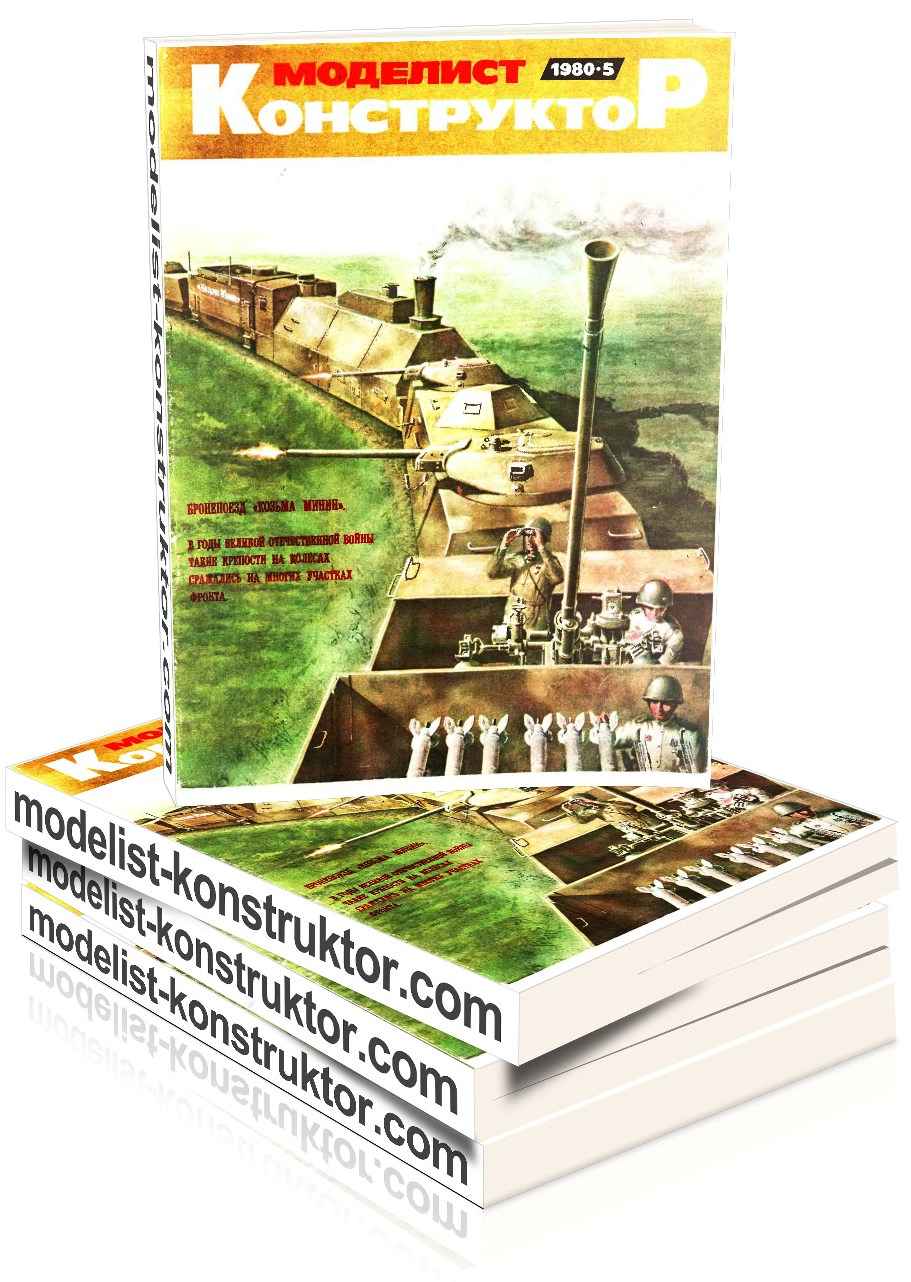 CONTENTS:
May 9 – Victory day: P. Poluboyarov. The greatness of the feat (1);
E. Krylov. Combat, special, armor… (4);
The Armoured Train "Kozma Minin" (9).
ENEA – young innovator: If the sharpness… (10).
Designer – dossier: N.Gulia. Transport going in tomorrow (12).
Pages of history: Yuri Zasypkin. "The best of Soviet airplanes" (15).
On land, sky and sea: I. Boeken. Attack-7 (17).
Models in the world: A. Burtsev. Reinforced wing on the "schematica" (22).
Meet the pioneer fly: E. Melent'ev. In 2 of the papers (23).
Model Champions: Vladimir Rozhkov. Ribbon-parachute (26).
Technique five: Large freezer trawler "Leninist" (27).
Advice to the modeller: (30).
Sea collection "M-K": G. Smirnov, V. Smirnov. "The city" English vs German (31).
Electronics circuits: K. Davydov. "Olimpik" (33).
Olympics – not just for Olympians!: V. Neill. Sports examiner (34).
Hams tell, advise, offer: Yuri Pakhomov. Electrophone their hands (36).
Devices-helpers: (39).
The industry offers – we offer the industry: (40).
Radiocronaca service "M-K": (41).
Club "Zenit" (42).
Organizer of technical creativity: Galiguzova M. D. can be visited. "The young electrician" in the pioneer camp (44).
Sports: V. Burtsev, V. Bagaev, J. Bokhonov. Mass and skills (46).
At different latitudes: (48).
COVER: 1 page – the armoured Train "Kozma Minin". Fig. M. Petrovsky; 2. – the Relics of the partisan war in Belarus. Photo by E. Rogov; 3rd page – At different latitudes. Installation of M. Simakov; 4-I p. – I Moscow city competition poster boat. Photo By V. Prigogine.
TAB: 1st page is the first Yakovlev aircraft air-1. Design Boris Mikhailov; 2. – the Submarine S-7. Fig. G. Komarova and V. Monakhova; 3. – Sea collection "M-K". Fig. V. Baryshev; 4. Miniature receiver "Olympic" on IC. Fig. B. Kaplunenko.
Modelist-KONSTRUKTOR 1980-05 PDF (download)