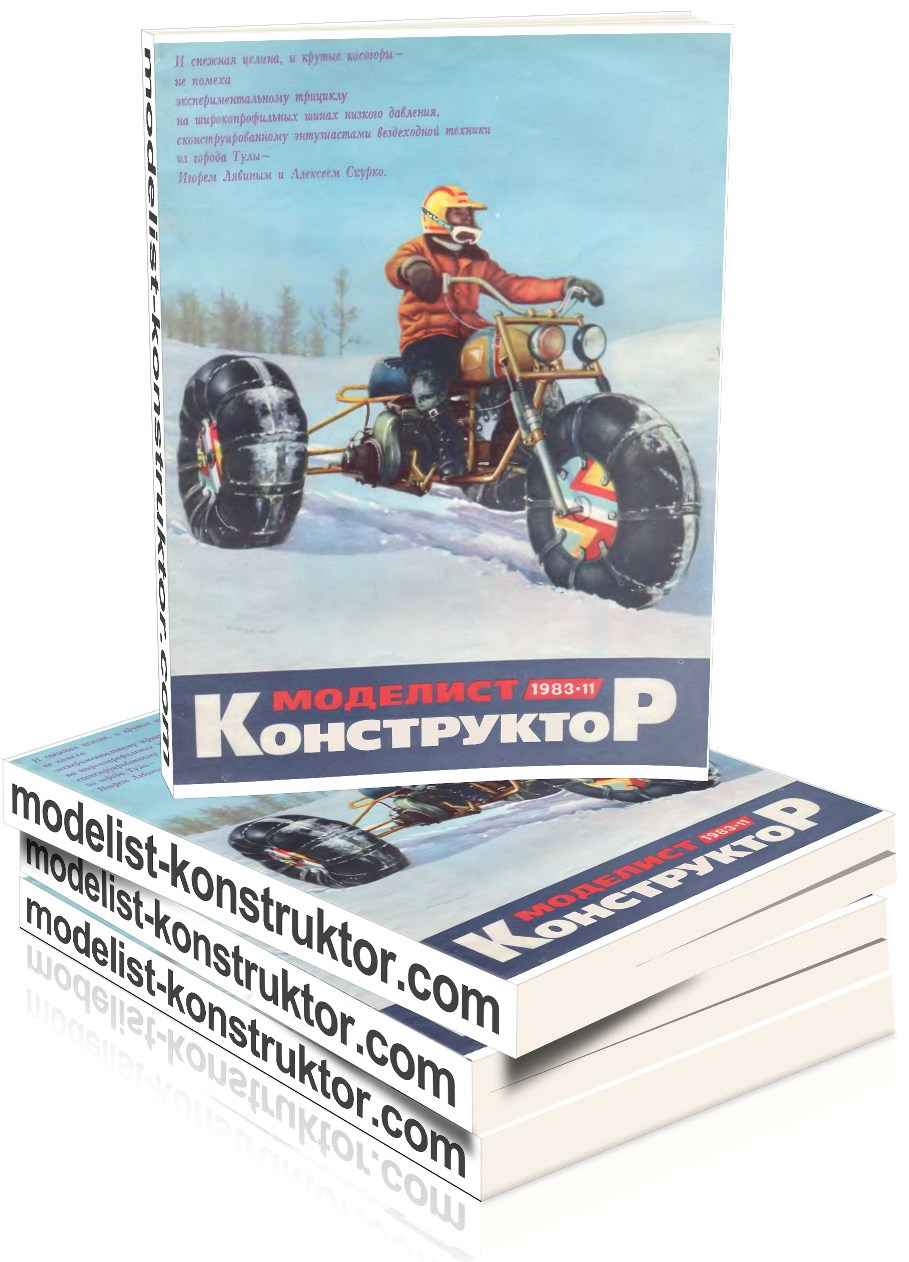 CONTENTS:
Organizer of technical creativity: P. Maev. Care – General (1).
Designer – dossier: N.Gulia. Transportation, stretching into the future (4).
Small-scale mechanization: I. Saparbaev. Tractor-universal (7).
Ideas competition: A. Borin. Flapping flight: myths and prospects (10).
Public KB "M-K": I. Usenaliev. Riding on an air cushion (12);
M. Shitikov. "Motorcycle" agronomist (14).
Famous cars: Leonid Shugurov. …Added to the garage of the Central Executive Committee (17).
Models in the world: N. Ulasov. Hydroplane class A1 (20);
G. Kibets. For combat and aerobatics (22);
Yuri Ivanov. Starts Brigantina (27);
From the sky by parachute (28).
Abilites "M-K": V. Kondratev. The first era jet (29).
Sea collection "M-K": G. Smirnov, V. Smirnov. The battleships Mississippi (33).
Advice to the modeller: (35).
Devices assistants: Vladimir Efremov. Automatic voltmeter (38).
Electronics circuits: G. Gutters. Motor-drive (40).
Electronics for beginners: V. Yakovlev. Tree-baby (43).
Radiocronaca service "M-K": (45).
Sports: R. Ogarkov. New rules – old problems (47).
COVER: 1 page – Tricycle-all-terrain vehicle. Photo by L. Kovalev: 2. – Design of the young equipment of the Rostov region. Installation G. Karpovich; 3rd page – photo Panorama of the "M-K" for readers ' letters; 4 pages – XX USSR championship in self-similar sports among young men. Photo By R. Oganova.
TAB: 1st page – "Motorcycle" on the airbag. Fig. B. Kaplunenko; 2-I page – Car "Delaunay-Belleville-45". Fig. Y. Dolmatovsky; 3. – Jet fighter Yak-15. Fig. M. Petrovsky; 4. – Sea collection "M-K" Fig. V. Baryshev.
Modelist-KONSTRUKTOR 1983-11 PDF (download)