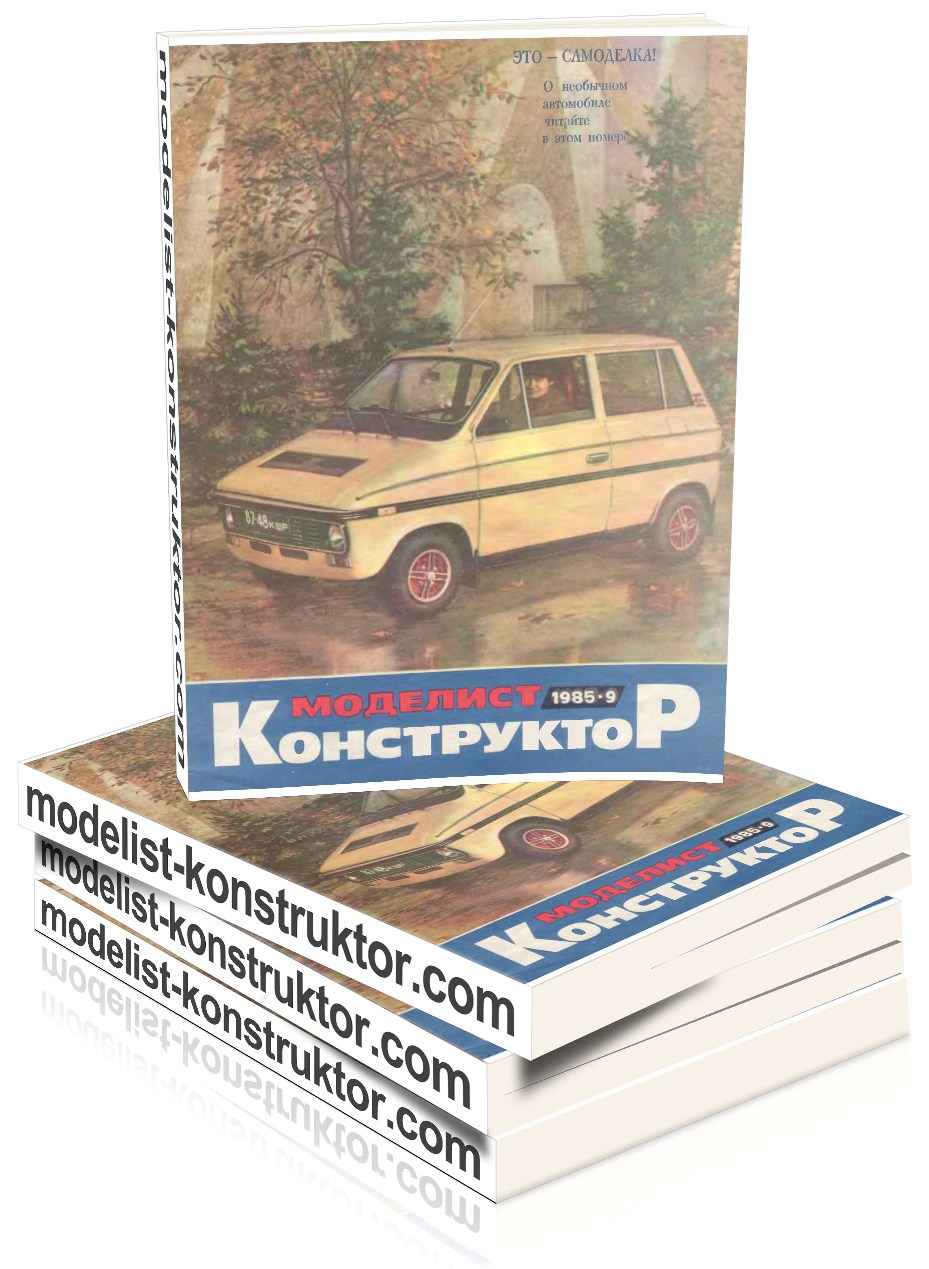 CONTENTS:
V. Zudov. The reality of infantile fantasies (1).
40 years of Victory: V. Zakharov. The last volleys of the war (3);
V. Ankudinov. River tanks (5).
Small-scale mechanization: I. Samotin. Grass to cut! (9);
A. Reznik. Electric grater (10);
P. Stanevsky. D-6 with a fan (11).
Public KB "M-K": V. Gorbunov, S. Nadzharov. Car for the city (12).
Abilites "M-K": V. Egorov. Exploration – in the sea! (17).
Advice to the modeller: V. Mikhed. The car acquires a resistance (21);
V. Gusarov. Any angle (22);
A. Redko. Cut… warm… (22);
I. Evstratov. The motor – power and reliability (22);
I. Rodionov. Plane amazing fate (bomber Il-4) (23).
Models in the world: V. Dimin. The secret of popularity (26);
Boris Soloviev. Desk of speed specialist (27);
"Space-86" (30).
Sea collection "M-K": G. Smirnov, V. Smirnov. From gunboat – sloop (31).
Furniture with his own hands: V. Strashnov. Secretary of the student (33);
Shelf stand (35);
The simplest of soft (36);
Comfort three part (36).
Family bins: I. Yakovenko. Thermostat for vegetables (37).
Tips from around the world (39).
Electronics for beginners: Yuri Pakhomov, E. Yuriev. High resistance voltmeter (41).
Computer engineering: circuitry: Registers (43).
Hams tell, advise, offer: Yuri Surkov. "Watchman" of the car (45).
Electronic kaleidoscope: (47).
COVER: 1 page – City car. Photo by S. Nazarova; 2-I p – XV all-Union competition "Space". Photo by A. Queen: 3. – Panorama of "M-K". Making Zykunova; 4. Match strongest on the self-similar sports. Photo By B. Lakhmetkin.
TAB: 1st page – City car. Design B. Kaplunenko; 2-I page – Abilites "M-K". Fig. M. Petrovsky; 3. – Sea collection "M-K". Fig. V. Baryshev; 4-I p. – the Secretary of the student. Fig. Boris Mikhailov.
Modelist-KONSTRUKTOR 1985-09 PDF (download)