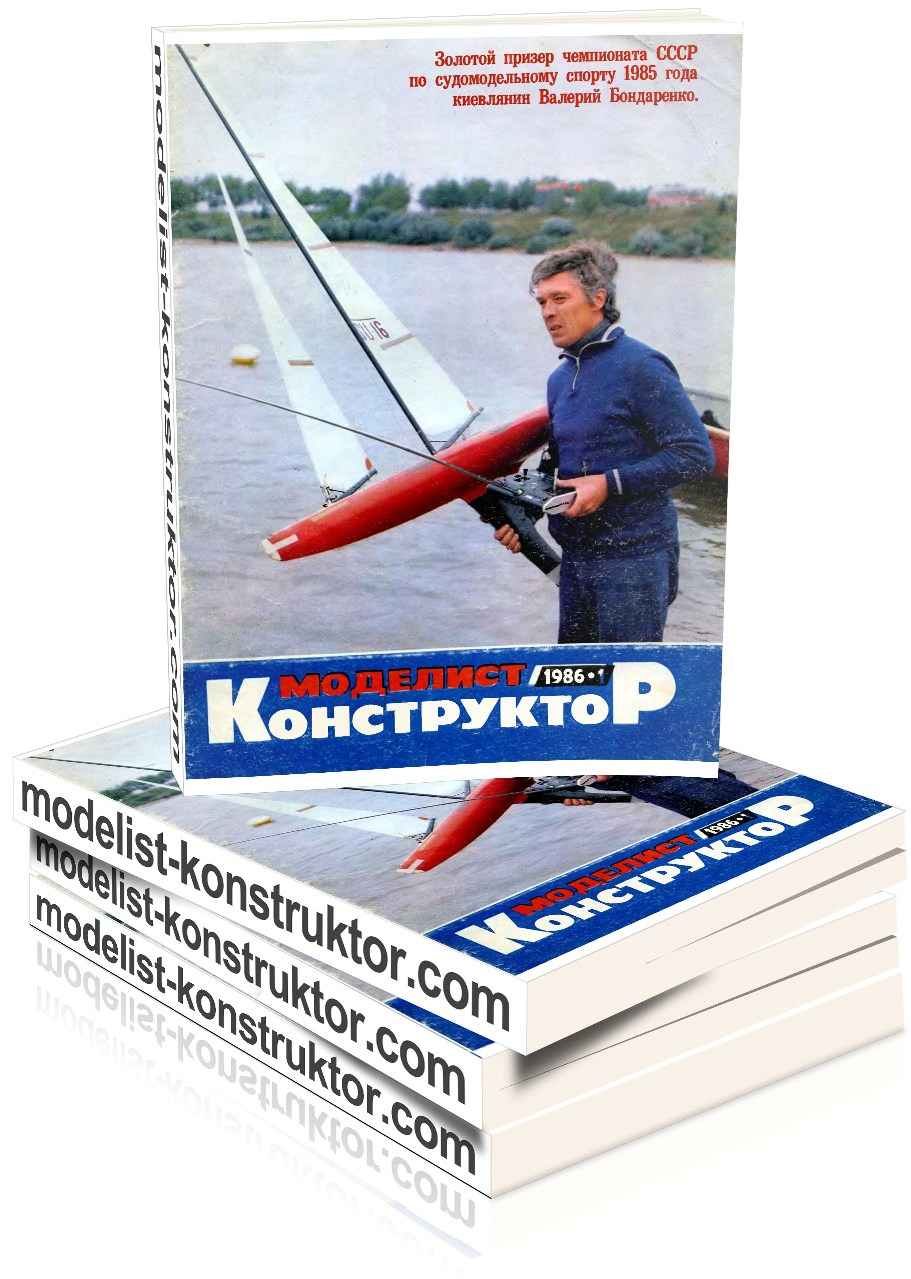 CONTENTS:
Organizer of technical creativity: A. Timchenko. DTL at the farm (1).
ENEA – young innovator: NTP – Komsomol units of study (4).
Public KB "M-K": A. Drummers. Summer motorcycle in the winter – Snowmobiling (6);
V. Askin. Moped "Cotton Growers" (9).
Small-scale mechanization: V. Yakovlev. Small, but perfectly formed! (11);
D. Sukachev. Putting the ignition (12).
Abilites "M-K": V. Egorov. The first scout (13).
Famous sailboats: A. zhigal'skii. The mystery of the Amur estuary (17).
Model Champions: Zenit (22).
Models in the world: V. Mikhed. Problems RC (23);
V. Tamonov. Elektroperedacha (26).
Advice to the modeller: (29).
Sea collection "M-K": G. Smirnov, V. Smirnov. Successors racing boats (31).
Furniture with his own hands: Bed-stealth (33).
Our workshop: Yuri Orlov. The mill… on the table (36).
Tips from around the world (38).
Meet interesting people: B. Revsci. The engine of his life (39).
Electronics for beginners: A. Valentine, S. Myskin. Glowing crystal (41).
Computer engineering: circuitry: A. Yushin. Counters (43).
Radio control models: A. Proskurin. The transmitter for two (45).
COVER: 1 page – national champion 1985 in the class of radioact R5-10 V. Bondarenko. Photo I. Alexandrov; 2-I page – young technicians of Kamchatka. Photo by A. Timchenko; 3rd page – photo Panorama of the "M-K". Making Zykunova; 4. – USSR champion in karting. Photo A. Black.
TAB: 1st page – Abilites "M-K". Fig. M. Petrovsky; 2. – the Transport "Baikal". Fig. N. Rozhnova; 3. – Sea collection "M-K". Fig. V. Baryshev; 4-I p. – Club house masters. The bed-invisible. Fig. B. Kaplunenko.
Modelist-KONSTRUKTOR 1986-01 PDF (download)