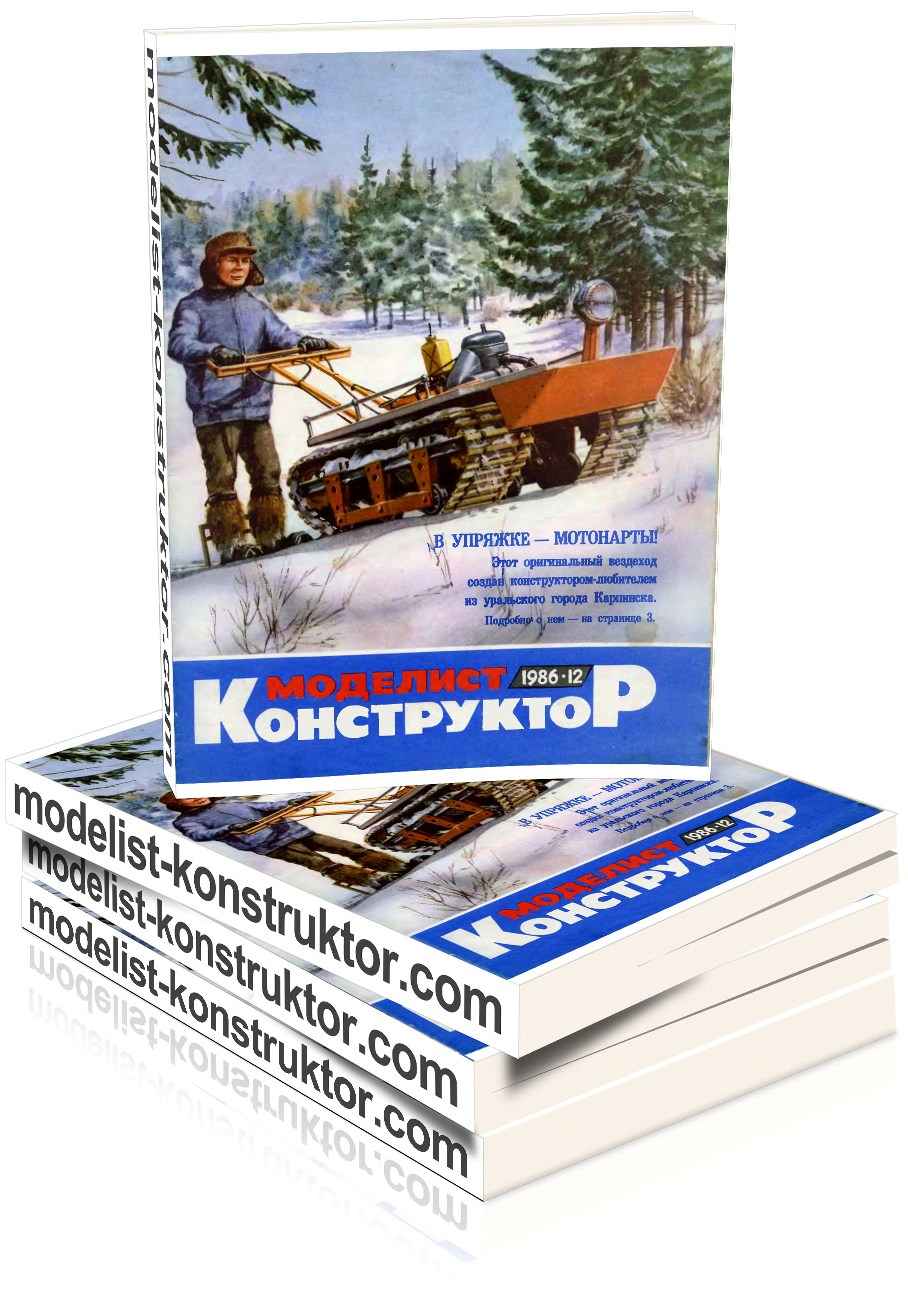 CONTENTS:
Organizer of technical creativity: I. Evstratov. Search time, time of changes (1).
Public KB "M-K": N.Skrebnev. With the "Blizzard" – virgin snow (4);
A. Egorov. Tricycle, family (6).
On guard of the Fatherland: N. Aleshin, V. Sergeev. Attacks… anti-aircraft gun (9).
Models in the world: D. Aleshin. Timer: the simpler, the more reliable (12);
V. Ardashev. On the waters – "Elektro" (15).
Attention, experiment!: L. Atlanov. Secrets flapping flight (16).
The technique of radio sport: A. Senchurov, V. Sokolsky. FET (18).
Hams tell, advise, offer: Solonin. Antenna amplifier (29).
Devices-assistants: A. Lekontsev. How to eliminate sulfation! (22).
Sea collection "M-K": G. Smirnov, V. Smirnov. Three explosions in Saint-Nazaire (23).
Firm "I": Christmas homemade (25).
Tips from around the world (23).
Published in "M-K" in 1986 (29).
COVER: 1 page – Micromachinery tractor. Fig. M. Petrovsky; 2-I page – KUT House of culture "Farhad" (Navoi, Uzbekistan). Photo I. Evstratova; 3. – the USSR championship in ship modeling sport. Photo by S. Kuhn; 4. – the championship of the USSR on the self-similar sports. Photo Of Yuri Yegorov.
TAB: 1. Folding recumbent K. Vernadsky. Photo by B. Nevskogo; 2. self – Propelled anti-aircraft gun ZSU-23-4. Photo by A. Romanov; 3. – Sea collection "M-K". Fig. M. Barysheva; 4. new year handmade. Fig. B. Kaplunenko.
Modelist-KONSTRUKTOR 1986-12 PDF (download)