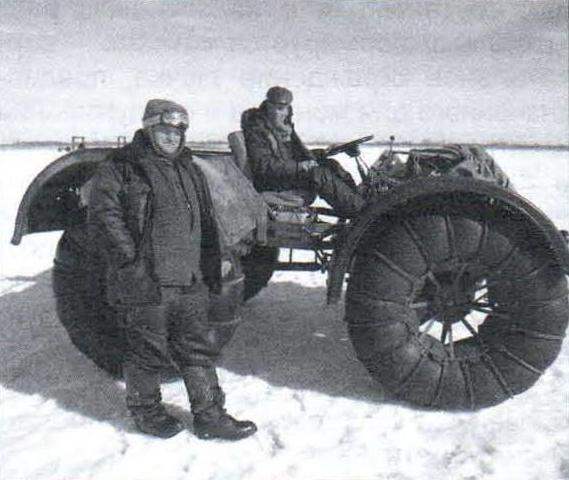 Your all-terrain vehicle tires low pressure I jokingly call "Grindaholik" over the apparent clumsiness and awkwardness due to the large wheels. But in fact, this is a serious machine with an enviable cross-country, made for winter fishing. It is indispensable on the river for movement on snow-covered ice with hummocks.
The engine from a snowmobile "Buran". Selected it because it has plenty of power, forced air cooling, CVT and electric start. Frame – spatial, welded, made of rectangular tube section 60x30x2 mm.
Front axle – from the "Fields" with the suspension of the "Oki", back -from VAZ-2106 springs from the "Moskvich-heel". Transfer case – also from the "Fields", only without the center differential (it's locked). The transmission of torque from it to the main gear – a chain with a pitch of 19,05 mm. the Main sprocket has 36 teeth (first was a 54-bevel).
Wheel "camera in the chamber" with a diameter of 1300 mm and a width of 500 mm from the truck KrAZ. Steering column – in front of the bridge.
In the future tyre replacement to the factory or "stripped" from the truck (tractor).
R. KHANS, Naberezhnye Chelny, Tatarstan