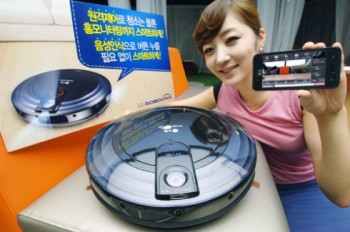 Corporation LG Electronics announced the robot vacuum cleaner Roboking VR680VMNC, which will be demonstrated at IFA 2011.
The highlight of the new product lies in the fact that the device has three cameras, allowing you to capture images of the surrounding space, so the robot is also a video surveillance system, transmitting the image via wifi to your device user.
Device control is also carried out with the help of a Communicator who can act as a remote control. With this robotic vacuum cleaner is able to recognize at a distance up to five feet a voice command.
In addition to surveillance cameras, the device has also received a great variety of detectors and sensors which allow it completely independently move around the room during cleaning without bumping into various obstacles. The cost of new items, which will appear on store shelves in September, will be about 750 dollars.