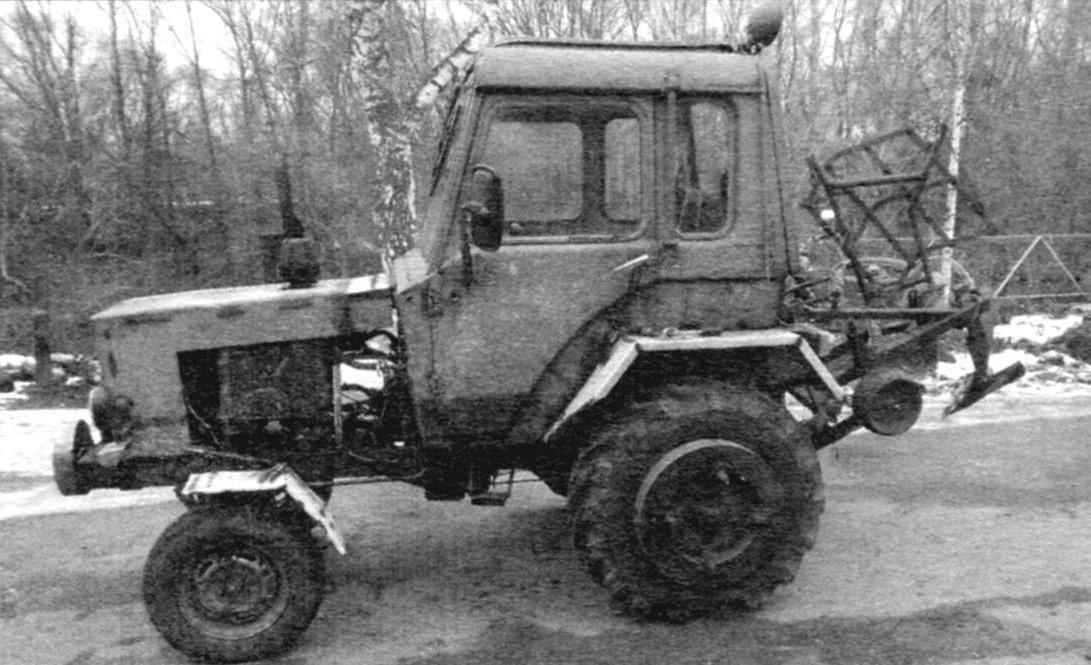 To work the land on the farm in summer and snow in winter, and also for use as a tractor during transport on short distances of various loads on trailer in 2010 he collected the mini-tractor "Makar-2M". Engine – two-cylinder VAZ-11113 750 cm3 and a maximum output of 33 HP at 5600 rpm.
Base – 1675 mm wheel Track rear-axis – 1200 mm, front – 1150 mm. the Front wheels of the VAZ-2101, rear: discs – GAE-53 welded adapter (Central parts) from UAZ, tires – MTZ-82 (front).
Rear-wheel ballast set – steel ring with a mass of 72 kg. Front 44-kg counterweight is attached to the frame front.
Homemade frame, welded from steel channel No. 10 to the set of reinforcements and brackets for mounting units.
Checkpoint # 1 with the main transmission from the car "Oka", the differential is locked (satellites are welded to each other). Checkpoint # 2 – from the GAZ-53. Number of gears: 16 forward and 8 backward.
Rear axle from the car UAZ shortened. Attached to the frame by means of four M16 bolts. Front axle – a homemade, U-shaped, oscillating type. Made of thick-walled pipes with a diameter of 80 mm. Hub with ball bearings – from the VAZ-2101. The node of the rolling – back crossbar of the car "ZIL".
Steering gear (cars) and the wheel (from "Volga" GAZ-З1029) are connected by steering the propeller shaft from the car "Oka". Rods – homemade.
The system consists of an oil pump NSH-10 and V-belt drive from the front pulley of the engine. Directional control valve – P80-3/4, three-section, four-position floating plunger. Cylinder linkage from the tractor T-25. Hinged system of the tractor of YUMZ-6, the vertical thrust from MTZ-80.