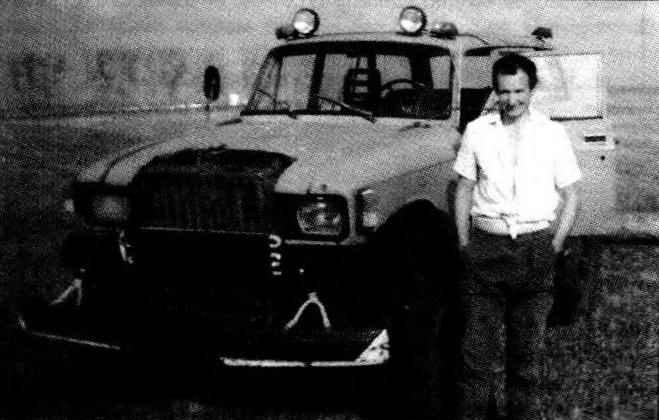 Dear editors of the journal "modelist-Konstruktor". Your journal I read from 1988 (I'm now 33). By profession I am a mechanic, own a welding business, and to all, a big fan of technology. Using published in the journal of the technical development of Amateur designers, he built three mini-tractors. It was found and used some of their technical solutions, for example, a tractor equipped with gidroksila.
The magazine also inspired the construction of the car high (maybe even higher) permeability.
"Jeep" (now call my car in the village) to do that I started a few years ago, not so long ago tried it on the go. Maybe "to do" — too loudly, because I was mostly collected as the vehicle is assembled from ready-made components and assemblies (reviewed or repaired) from the old production cars. My task was to pick up these ready-made mechanisms that could trouble-free to operate, without harming each other, and connect them together.
With the problem I seem to have managed, as by subjecting the machine to a severe test, walking on it "in the valleys and on the hills", was pleased with her.
The body was taken moskovichevskoe from 21403 (type universal). Think he is better suited to the appearance of cars of class "jeep" than body type sedan or hatchback, and the boot volume of the wagon is such that allows it to fit in the large spare tire, but other driving tools: the Jack, the cable, the tool, and just some baggage.
The chassis of the machine is almost complete (frame, wheels, suspension) — truck terrain GAZ-6З. About this Rover — the conqueror of off-road of yesteryear remember is that the elderly and young — perhaps only experts in the history of technology. It was established on the basis of the legendary post — war home country roads- truck GAS-51, so in many ways was similar to him. The GAZ-6З, unlike the prototype, both bridges were leading, but the rear axle was only one wheel on each side.
Tire wheel with cameras had to be replaced — regular rubber though survived, but time has lost its elasticity and is chipping in places. Instead, a good fit tires from GAS-66.