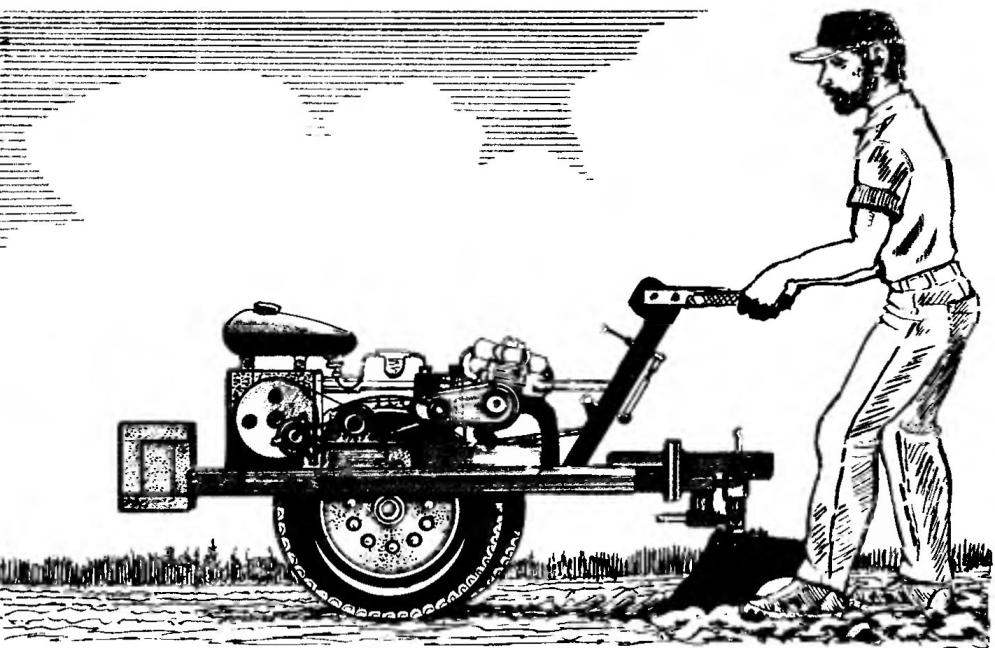 When plowing or tillage in the garden is easier to use a walk-behind tractor with mounted equipment. This is due to the fact that lands in the garden, usually small; in addition, not all beds need to plow. In such circumstances, traktorist difficult to maneuver and how easy is unfolding almost on the spot. E. Kulikov (der. Bornukovo, Nizhny Novgorod region) when doing the tillers, on the basis of these considerations.
As the power unit chosen was the well-known engine with forced air cooling Т200М scooter "Tula Tourist". Unlike regular complete installed on it TO carb-28G, air filter ZID-4.5 and a homemade silencer. The torque from the motor to the wheels is transmitted by a chain transmission which includes the gear from the chopper feed "Volgar". The use of such gear, in addition to improving traction characteristics, provided the cultivator an opportunity of movement and reverse, which increased its maneuverability. Reverse is activated by turning lever reverse shaft associated with a corresponding leash reducer. This shaft runs in three bearings mounted on the bracket of the steering brace and the frame. Each leg is equipped with a bronze (brass) bushing.
Speed switch lever, submitted to the steering strut and the United rockers and rods with the axis of the gear shift motor. The rocking sleeve mounted on the axle, welded to the strut to the steering wheel have an inner groove for gasket grease in them. In fact, the main focus wheel engine controls: clutch lever, lever throttle, and an electric switch.