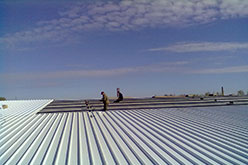 PIR-PUR sandwich panels are manufactured by group of companies "Lissant", is the best choice for fast, economical construction of industrial, agricultural, domestic buildings, low-rise office and residential buildings of economy class.
The group of companies "Lissant" one of the first in Russia to introduce the production of sandwich panels with a filler of penopolietilenovye (PIR). Today sandwich panels is recognized as a progressive and highly effective building material, they are widely used at construction sites for any purpose. Production plant of Lissant, in Saint-Petersburg and Nevinnomyssk – work on the equipment of the Italian company Cannon technology is improved as new developments in the construction field. Now the company has branches in Moscow, Ekaterinburg, Krasnodar, Rostov-on-don.
"Lissant" offers its customers not only the sandwich panel and the insulation of its own production, but also the whole complex of services: delivery in any region of Russia and the CIS, project technical support, professional advice, construction and installation work "turnkey".
Why is sandwich panel PIR-PUR?
The development of production of construction materials has led to the creation of sandwich panels with fillers and PIR (penopolistirola) provide better technical and operational characteristics of this building material.
Their significant advantages:
A wide range of. "Lissant" manufactures wall and roof panels, refrigeration and Agropoli, insulating plates with different thickness and facings.
Excellent thermal insulation: PIR-PUR sandwich panel thickness of 10 cm, comparable with meter brick walls.
Fire. PIR panels can withstand temperatures up to 140oC (fire safety certificate).
Resistance to changes in temperature, steam and moisture resistance.
Biological durability. The fillers are resistant to deterioration, rot and mold. They do not infest rodents, insects, microorganisms (there is a sanitary-epidemiological conclusion).
The lightness of the material (specific weight of about 40 kg per 1 m2), allowing not to fail at building a strong Foundation that significantly reduces the cost of the project.
Easy installation and transportation, due to the ease and the design of the material. This significantly speeds up the construction.
Environmentally friendly. Materials for production are purchased only from the best domestic and foreign manufacturers, they do not adversely affect human health, the environment (there is a certificate of conformity to ISO 9001).
Durability. The lifetime of PIR-PUR sandwich panels for more than 50 years, and their characteristics do not deteriorate during the entire life.
The trust earned
High performance PIR-PUR sandwich panels, reliability, efficiency of construction works – corporate principles of the company "Lissant". Prices, when purchasing materials from a manufacturer and the most profitable customer.
Source http://lissant-panels.ru/
Recommend to read
TREE-BRANCHES
Soon again the New year. Until the next national holiday remained about three months. I know from personal experience that the Christmas tree is put in a house literally in the last...
IF WIT…
A quick key. Participants NTTM Novokuibyshevsk a freight motor transport enterprise Governance transport control embedded high-speed universal wrench for screwing of pins. Thanks to the...