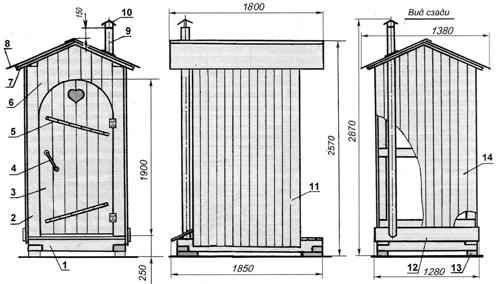 Any individual developer, since the development of the site or the erection of a house on it, just have to first build at least a small and simple toilet. Although I would note that great solidity of this building is no different even in areas with mansions. But for modern portable toilets easy booth with a flat floor is required (which is installed on the bricks, and shown on the General arrangement drawing).
When choosing a location is necessary to observe certain sanitary requirements. If the area is well, the toilet must be positioned not closer than 20 m from it and at a distance of not less than five metres from a house. In the presence of a cesspool is necessary to leave and travel to the toilet for special vehicles. Version of the toilet to pit latrine shown in the drawing the frame of the booth.
As for the sump, its the sides and bottom I made a concrete and a depth of about 2 m and the bottom was executed with a slight slope to the rear. The sides and bottom of the pit can be made out of ceramic (red) solid brick, natural stone and even wood. But to ensure integrity in the first (brick) version of the hole from the inside should be plastered, and the second seams tarred oakum. In sandy soils outside of the walls and under the bottom of the pit it is necessary to arrange the clay lock with a minimum thickness of 250 mm, and inside (all versions), to cover with bitumen. Preferably the wall is slightly raised above the ground level to the pit did not get rain and melt water.