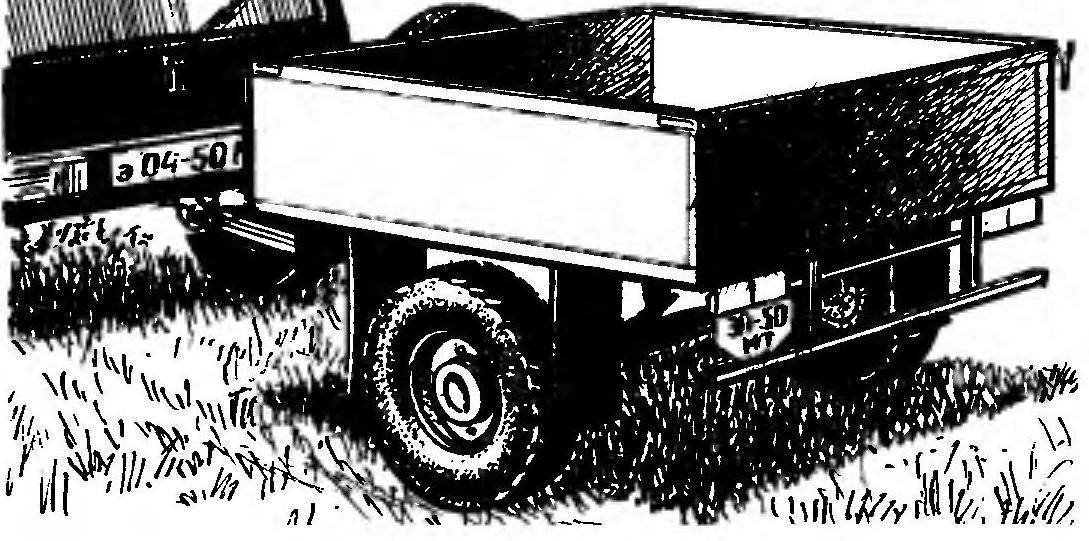 Favorite car in the village is undoubtedly the all-wheel drive, all-terrain VAZ 2121 "Niva". Trailers specifically for this model, having a large capacity and the ability to operate in off-road conditions, our industry, unfortunately, not released. What a pity! Need them villager is huge: it is necessary and the materials to bring, and fertilizer, and to deliver to the market the products of his garden. In short, the trailer to "the Field" is a must! That's why I designed and built it yourself.
Trailer weight trailer — 250 kg. in Accordance with the requirements of GAI of the total weight of the trailer not equipped with brakes with a load, shall be not more than half the curb weight of the pulling vehicle, i.e. not more than 750 kg. Thus, the capacity precita permitted by the traffic police is 500 kg, the actual is two times more: up to 1000 kg. in addition, hinged tailgate and smooth the floor of the truck provide easy loading and unloading. Currently the trailer is registered and has been used successfully. Have spoken to me of rural craftsmen asking for drawings, so I decided to write to the journal "modelist-Konstruktor". I hope that many of his readers would undertake the construction of the trailer.
Based on the chassis taken back axle with springs and hubs from the scrap charged to a mobile compressor PR-10. Gauge adapted to gauge the traction of the car. For this thick-walled pipe axis an outer diameter of 80 mm and a shorter cut on a lathe with the removal of chamfers for welding.