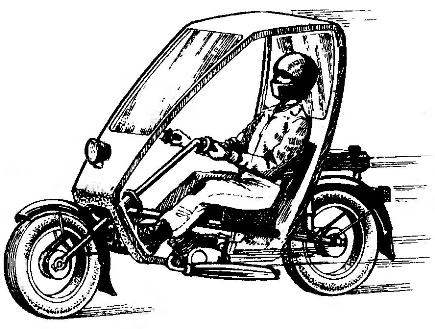 Does not make sense to compare a scooter-a scooter and a car — these cars are totally different. However, the designers of motorcycles continuously attempt to give the two-wheeled vehicle in comfort of their four-wheeled counterparts. In recent years, increasingly on the streets of cities, there are lightweight scooters-scooters equipped with a fairing resembling devoid of doors the body of the passenger micro-car, only. This combined transport is not an example of comfortable traditional bike — especially for our country with its climate, abundant spontaneous precipitation "in the form of rain and wet snow."
We present the design of the scooter is developed on the basis of the parts of a moped "Karpaty" and motorcycle "Minsk" the engineer I. Dnevnikom. His structure is an elongated and squat mokik, it is suitable to equip it with a nice fairing.
Probably not much point in a detailed story about the vehicle — such diys in the "Modeller-designer" told more than once. Let us mention only its main design features.