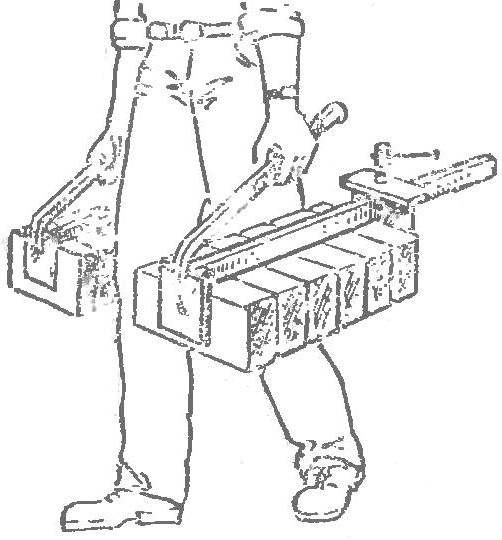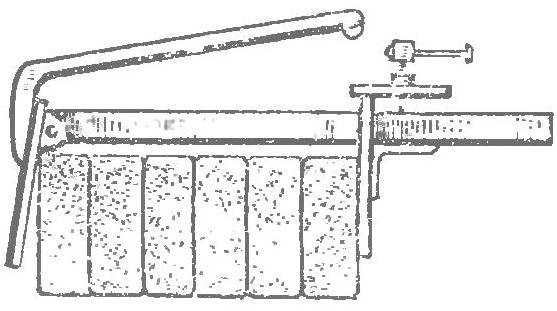 How many bricks to bring in your hands? Three or four pieces of, you might say. Indeed, to take more uncomfortable because then they have to fold and "dump" that, first, spoils them, and secondly, requires more time for styling. Significantly increase productivity in this type of work will allow the use of the shown devices. This longitudinal strap and the two clamping plate clutches, one of which is mounted on a strap hinge, and the second is fixed with a screw. And the first plate is welded carrying handle. The maximum distance between the plastics — 555 mm, that allows to capture up to eight standard bricks. Thus, one man in each hand and can carry 16 bricks. And enough to put this "brick transport" on the ground, as the load is released from the clamping feet and is laid in exactly the right place, by the Way, this device can be moved and other items — concrete, blocks, plates, etc.
Recommend to read
PENCIL CASE FOR CARRYING
A portable lighting lamp on a long cord helps not only under the hood of the car, but in the cellar, in a dark back room. But here's the problem: how to store? The perfect pencil case...
Magazine rack
MATERIAL: metal rod Ø 6 mm, matting or Mat, a thin soft wire, lacquer furniture, small for metal.   TOOL: hacksaw, file, sandpaper, scissors, meter, brush, hammer, vise.   ...