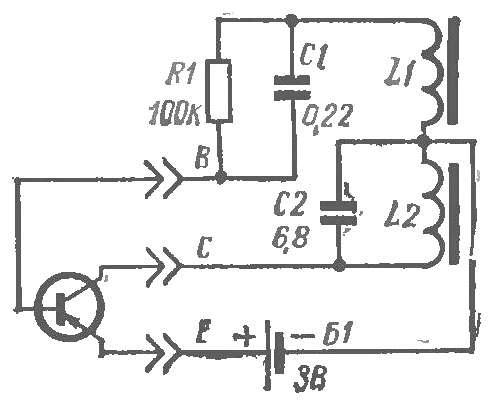 For its production you will need two capacitors, a resistor and phone capsule (see diagram). Removing the insulation pad under the membrane of the phone parts are mounted directly in the capsule. Check the transistor is connected to the terminals of ALL the circuits. Occurs phone the sound vibrations talk about the health of the transistor. About its amplification factor β can be judged by the intensity of the sound: loud sound — high β, the weak — β low.
Installation and establishment of the scheme will not cause much trouble, and the device will be useful in practical work.
L1, L2 — coil telephone DC resistance of 2200 Ohms. As power source you can use two or three series-connected battery type D-0,06.
Recommend to read
THE INDICATOR FOR THE BATTERY
The safety device that signals the limit of the battery, must have for every modeller. The scheme of such a simple electronic device — figure 1. The unit is connected to the battery pack...
POWER SUPPLY WITH ACTIVE FILTERS
For portable electronic equipment need a small volume and weight of the power supply. To solve this problem relatively simply by replacing passive LC and active RC filters.   The...