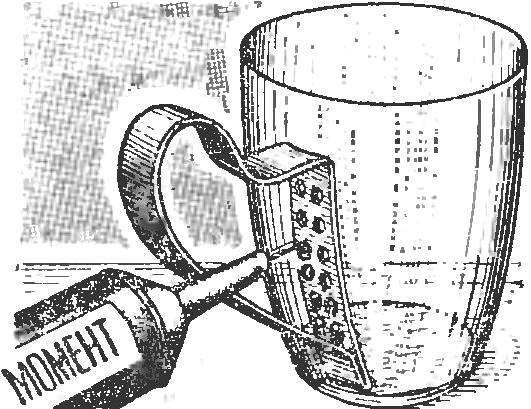 His appearance holder, obviously, was due to the fact that it was not possible to attach the handle to the glass. Modern chemistry allows you to do this even at home. Take the glue BF-2 or "Moment", and of metal strips vignette the handle In the part that will fit the glass and drill a few holes: it will accelerate the drying glue, and then filled with additional drops his form during the solidification of subsidiary pseudosclerotia connection. Handle will not fall off even if the Cup will cool the boiling water.
V. KHAKHALIN, Dolgoprudny, Moscow region
Recommend to read
INSTEAD OF A WEDGE
Love tinkering in my spare time. Probably most often use the hammer, but the mounting of the striker on the handle with a wedge it seems to me unreliable. So I decided to make this...
Countersink for drill
Everybody knows to "hide" the head of the screw or nail, a hole must be countersunk. In a domestic environment this operation is usually large diameter drill. But it kvostik drill does...