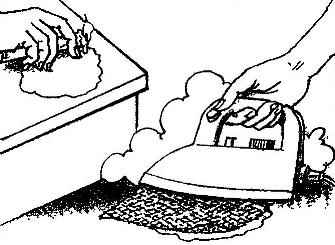 On the polished surface of furniture, often there are whitish spots (e.g. from a hot object), which spoil the view.
To get rid of them: rubbed the stain with wax, cover with loose paper sheet type blotting paper and gently… iron iron with thermostat.
Recommend to read
CELL INSULATION
The lightest three-layer plate with a honeycomb filler can be obtained, if you use this hint. The middle layer is empty matchboxes glued in a checkerboard pattern, for example, the sheet...
CAREFUL DRILL
If there is a need to make a hole in the polished furniture or to protect the surface of the finished furniture plate when drilling through it — enough to put on a safety drill "puck" of...