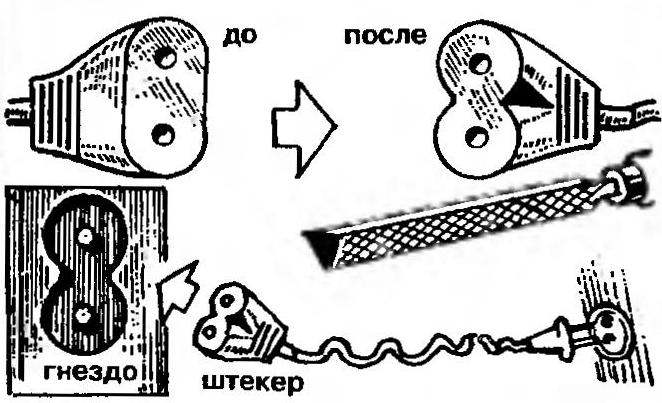 I read your magazine with ten years. other Hitrino "on their heads wrapped". Tell about your. The tape had deteriorated power cord. But I had another, from a broken shaver. However, plug his other form. But it was enough a bit of work with a file, giving a cross-sectional shape of the number 8. And the VCR is working again!
D. EFIMOV, p. 3 I R g a n, Tatarstan
Recommend to read
THE TAMING POINTS
A wear glasses only while working or reading. And the rest of the time they are buried, usually in the breast pocket. Just have to bend down like glasses are on the floor. Attach to the...
WHEN THE ANGLE IS NOT A PUNISHMENT
Sand the angle of the junction of the wooden parts is a handful. However, the operation is much easier and faster if use the bar, one face of which is cut down at an angle of 45°: wrap...