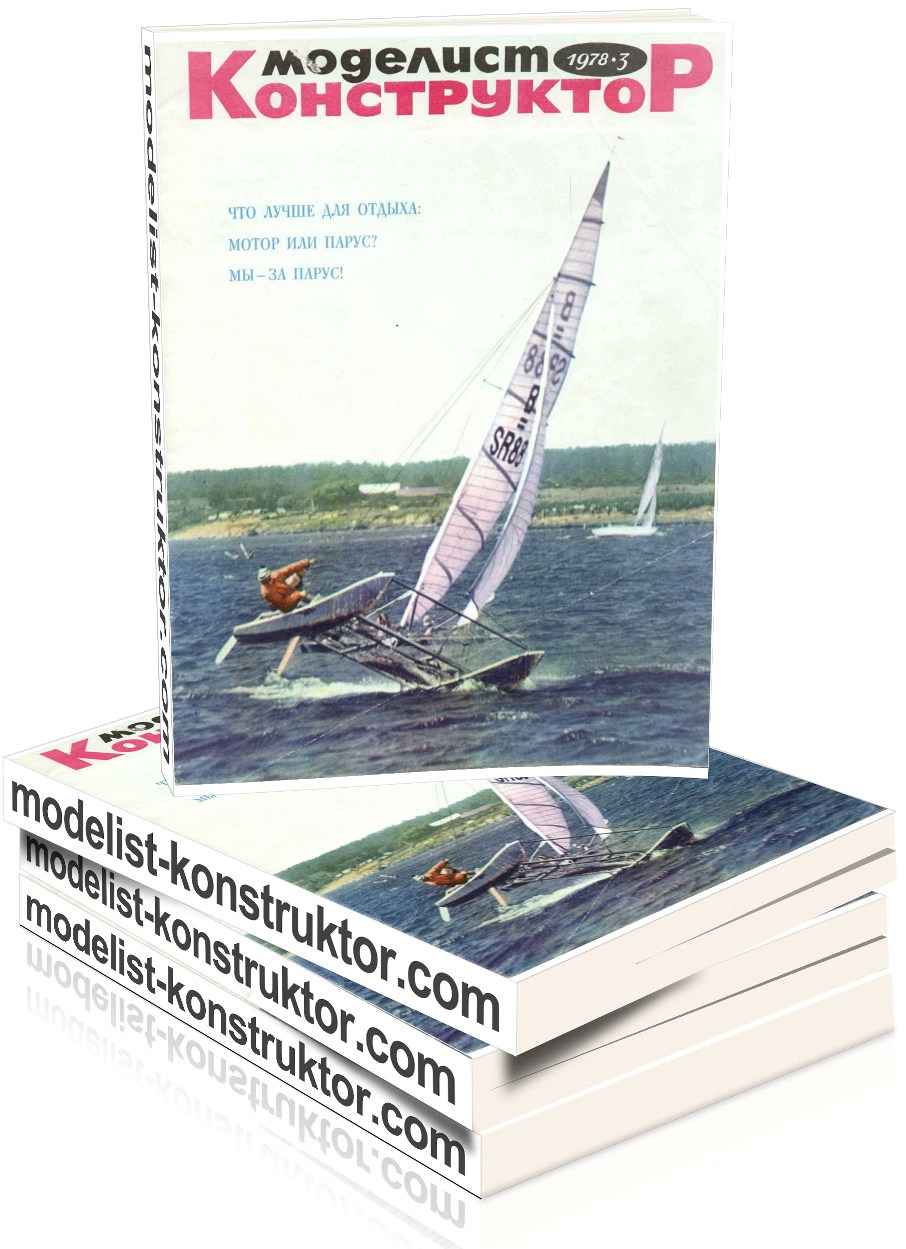 CONTENTS:
Towards the XVIII Congress of the Komsomol: A. Fedotov. The stronger wings in flight (1).
Organizer of technical creativity: N. Obreja. The boys on my street (3).
ENEA – young innovator: Forest "instrumental" (5).
Public KB "M-K": V. Stuntin. "Snowflake" with a motor (8);
I. Usenaliev. Snowmobile "Morganok" (10).
Aircraft wings: I. Kostenko. Planneralm HAI-3 (15).
Technique five: V. Kostychev. Sea diving boat (17).
The competition of ideas: V. Bragin. It will run you notriced faster? (18).
Models in the world: A. Gavrilov. Importantly – altitude (23).
Advice to the modeller: P. Karzov. Simple and reliable (30).
From our friends: G. Miles, A. the Scar. The control system (31).
Sea collection "M-K": G. Smirnov, V. Smirnov. Zigzags of shipbuilding, or the Fruits of "the naval confusion" (33). Introduction to modeling: Yuri Stepanov. Instrument of cognition (35).
Young technicians – production: Y. Mokhov. With "Volga" on the Volga (39).
Devices assistants: V. Rinsky. Instead of a coil – quartz (40).
Reader – the reader: L. Poberezhnyuk. Electronic ignition for "Sunrise" (42).
Club "Zenit" (44). Radiocronaca service "M-K": (46).
Help Desk "M-K": V. Druzhinin. Thermoresin foam (47).
COVER; 1st page – Wind in the sails. Photo by B. Ruskin; 2-I page – Gorky in search of. Photo Yu; 3rd page – photo Panorama. Installation of M. Simakov; 4. – launch of the "cruise radio operators". Photo By E. Rogova.
TAB: 1st page – Aircraft HAI-3. Fig. B. Kaplunenko; 2-I page – Sea diving boat. Fig. N. Rozhnova; 3. – Exhibition of railway modelling. Photo by A. Artemiev; 4. – Sea collection. Fig. V. Baryshev.
Modelist-KONSTRUKTOR 1978-03 PDF (download)