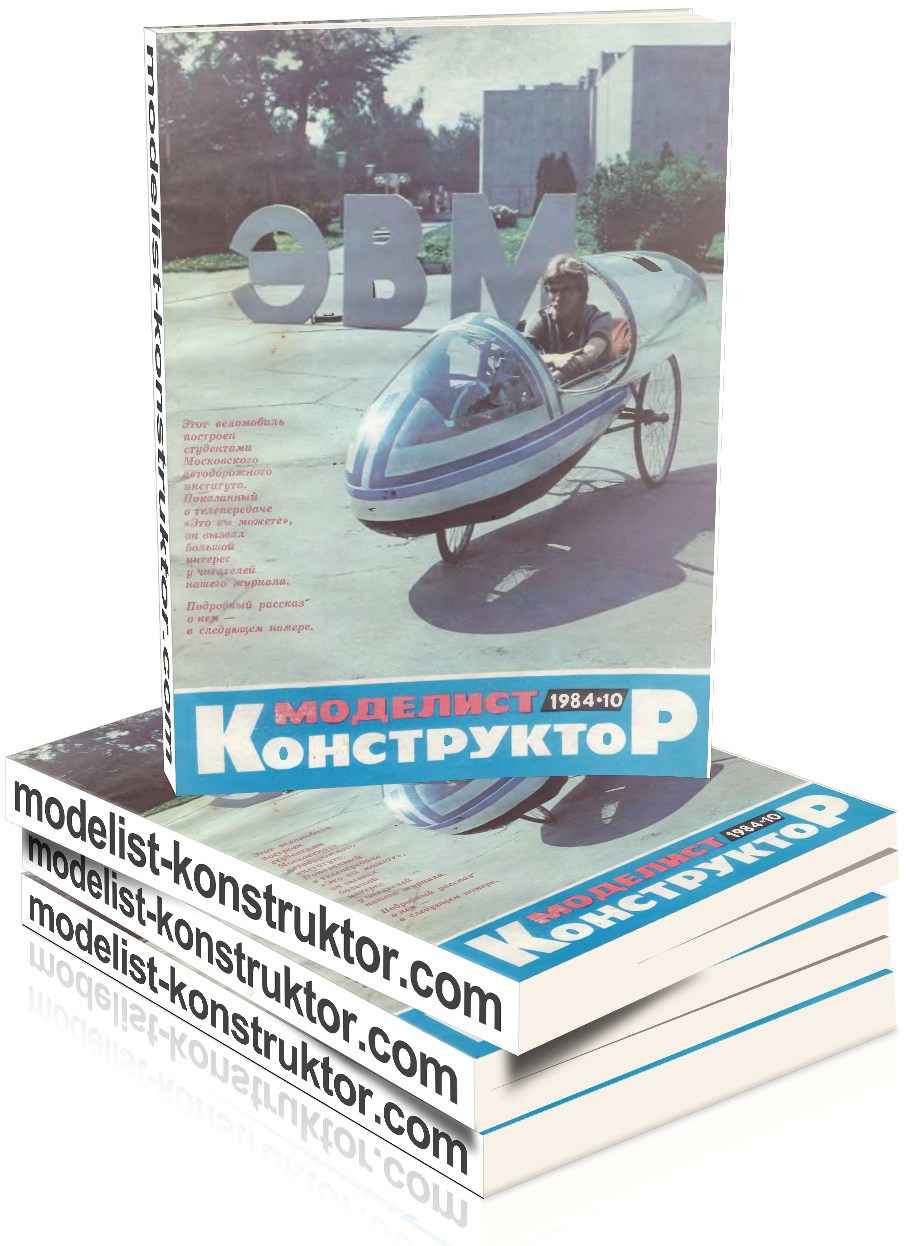 CONTENTS:
Organizer of technical creativity: A. Nikolaev. Large business small laboratory (1).
Public KB "M-K": V. Neborak, S. Minds. Velokart "Eaglet" (4).
Small-scale mechanization: A. Gordin. Polymeta on the field (6).
To celebrate the 40th anniversary of Victory: N.Fedorov. The bitter attack of the "Komsomol" (9).
Models in the world: A. Dmitriev. Flying diagonally (12).
Model Champions: R. Viktorov. RC rocket plane (15);
"SPACE-85" (16).
Make for schools: V. Chernyshevsky. The indicator of time intervals (17).
Cybernetics, automation, electronics: A. Nikolenko. "Knight's move" (20).
Sea collection "M-K": G. Smirnov, V. Smirnov. Hybrid gunboats and a monitor (23).
Myself electrician: the Soffit in the interior (25);
Gavrilov. Rainbow in lamp (26).
Home stadium: Foldable "gym" (27);
V. Bel'kov. To swim and go on the spot (27);
F. Jumaev. Bedroom bar-swing (28).
Home workshop: I. Gorev. Case… from the oven (29).
Tips from around the world (30).
COVER: 1 page – Recumbent MADI. Photo by D. Artemyev; 2. – In the laboratory of Cybernetics and bionics Gorky's oblsud. Photo by A. Nikolaev; 3rd page – photo Panorama of the "M-K". Installation G. Karpovich; 4. Match strongest avtomodelistov. Photo I. Tsypin.
TAB: 1 p. – Tillers of the GDR. Photo of Yuri Stepanov; 2nd p. – Torpedo boat "Komsomolets". Fig. B. Kaplunenko; 3. – Sea collection "M-K". Fig. V. Baryshev; 4-I p. – Club house masters. Fig. Boris Mikhailov.
Modelist-KONSTRUKTOR 1984-10 PDF (download)