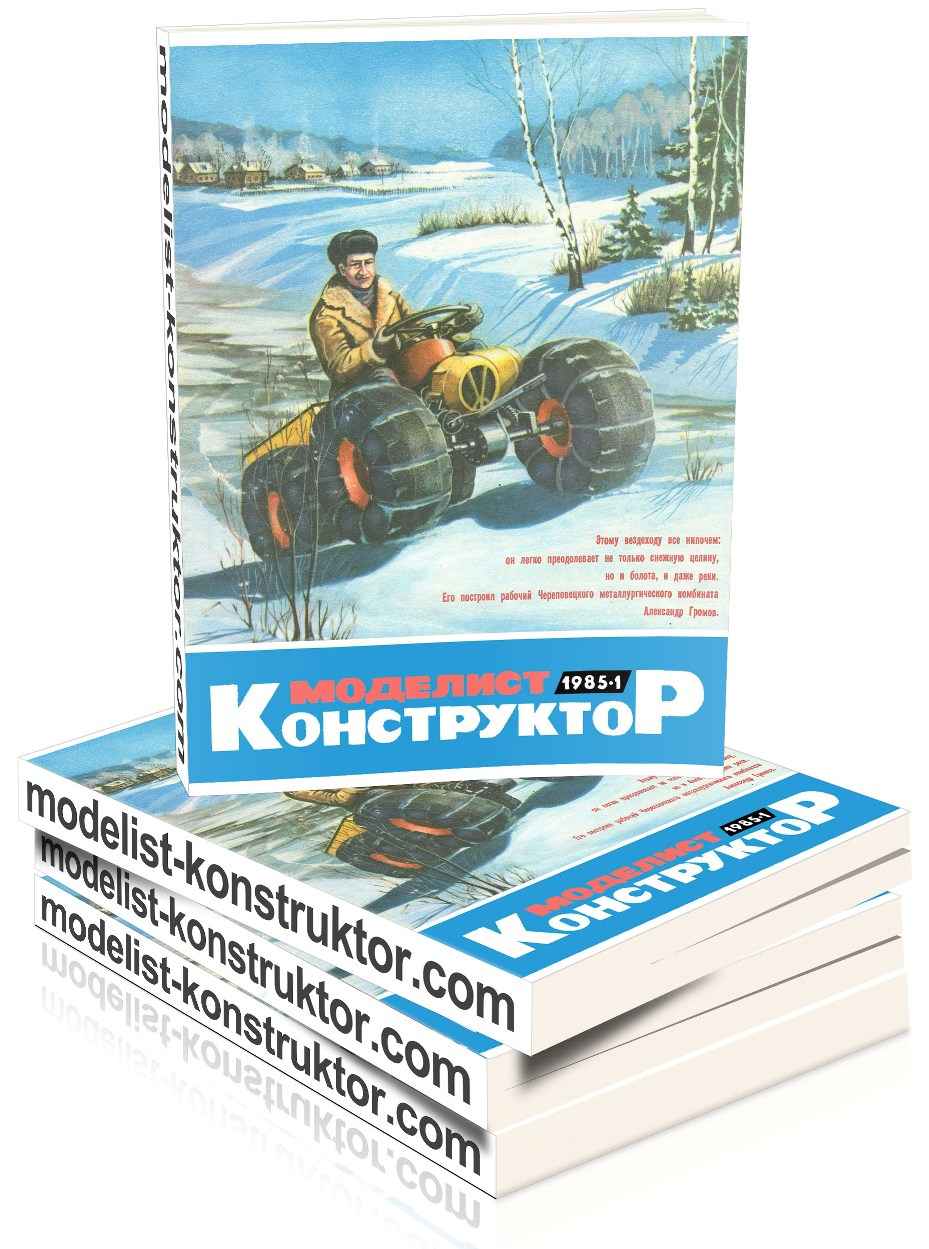 CONTENTS:
Organizer of technical creativity: F. Danilov. Landmark – useful work (1).
Public KB "M-K": They are not afraid of obstacles (3);
A. Gromov, A. Timchenko. All four leading (4).
Small-scale mechanization: E. Pedriks. PushPull in the garden (8).
To celebrate the 40th anniversary of Victory: F. Konstantinov. Ten victories of the "red guards" (11).
Abilites "M-K": V. Egorov. Created for exploration (17).
Models in the world: On road and track – "Peugeot 205" (21);
A. Mosovsky. This is a complicated simplicity (23);
Gavrilov. A rocket with a streamer (27);
A. Dorogin. Minute to run (27).
Advice to the modeller: (28).
Sea collection "M-K": G. Smirnov, V. Smirnov. Amur monitors (31).
Furniture with his own hands, Emerging from the painting (33);
L. Matthias. Dining, folding (33);
The table… in the drawer (34).
Our workshop: V. Bezrukov. The vise with the gear (34).
Myself electrician: Yu. a. Ryabokon. Geometry of space around the bulb (36).
Tips from around the world (38).
Reader – the reader: I. Sergeev. Not to "sunbathe" on the side (40).
Radiocronaca service "M-K": RS-triggers (41).
Electronics for beginners: A. Valentine, I. Milke, and E. Sawicki. Here born vibrations (43).
Cybernetics, automation, electronics: V. Korlykhanov. Music box (45).
COVER: 1 page – terrain Vehicle from Cherepovets. Fig. V. Vladimirov; 2-I page – II national meeting of labor unions of students in urban schools. Photo by V. Antonov; 3rd page – At different latitudes. Making Zykunova. 4. – Union competition modelers. Photo By V. Ruban.
TAB: 1st page – Submarine D-3. Fig. V. Matrosov; 2-I page – Abilites "M-K". Aeroplane scout "Voisin". Fig. M. Petrovskogo; 3. – Sea collection "M-K". Fig. V. Baryshev; 4-I p. – Club house masters. Folding tables. Fig. P. Efimenkov.
Modelist-KONSTRUKTOR 1985-01 PDF (download)