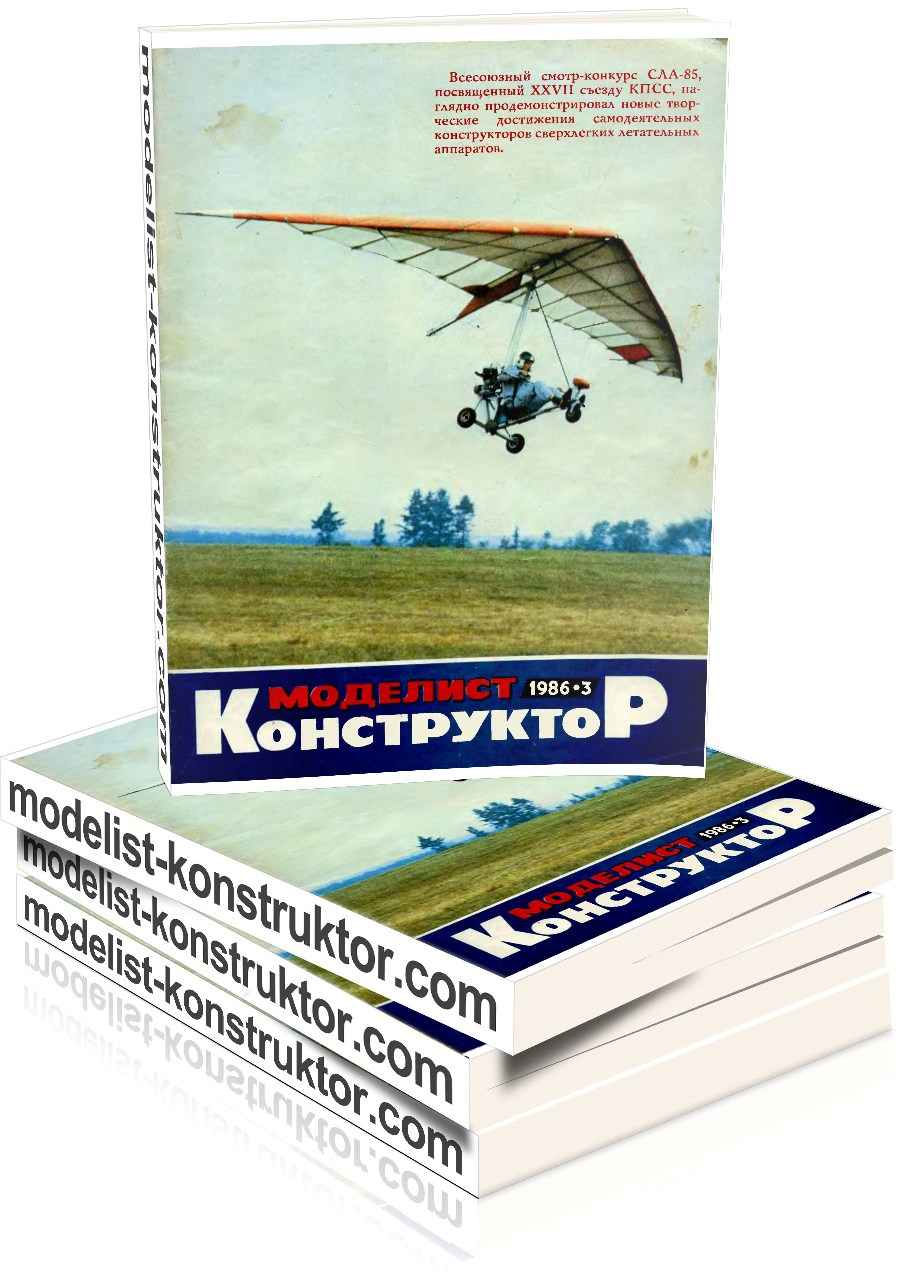 CONTENTS:
Decisions of the XXVII Congress of the CPSU – in life!: F. Danilov. Inventors in school (1).
ENEA – young innovator: Komsomol units of study (3).
Small-scale mechanization: V. nikitiuk. With the engine of the scooter (5).
Public KB "M-K": V. Kondratev. SLA-85: analysis and perspectives (8);
L. Gorynski, A. Korotkov. On the bike… skiers (14).
Sea collection "M-K": G. Smirnov, V. Smirnov. Ultra speed group D (17).
Models in the world: "Salamander" class SDF (19);
L. Klimov. Bird (22);
V. Alekseev. Aviation wing (24);
V. Dimin. The novelty of the ice season (26);
V. Holguin. Cloud vs cloud (28).
Advice to the Modeler: N.Golubev, V. Ivushkin. New recipe fuel (30);
S. Sablukov. Divide into three pieces (31);
V. Kovalev. The gas tank of the "Crown" (31);
A. Novikov. Universal technology (31);
B. Gurochkin. Spray the austere (31).
Sports: I. Evstratov. Sails and motors (32).
Firm "I": V. Strashnov. Doors for every taste (33);
A. Shepelev. Oven-stove (35).
Our workshop: B. stop V. hlupin. Grind, rinse (38).
Tips from around the world (39).
Electronic kaleidoscope: (40).
Computer engineering: circuitry: A. Yushin. Counters (41).
Radio control models: A. Proskurin. The transmitter for two (43).
Electronics for beginners: Yuri Pakhomov, E. Yuriev. Under control – stress (46).
COVER: 1-4-I p – III all-Union review-competition of ALS-85. Photo A. Black; 2-I page – young technicians of the Moscow school №42. Photo by V. Antonov; 3rd page – photo Panorama of the "M-K". Making Zykunova.
TAB: 1st page – Willigerod. Photo of Yuri Yegorov, V. Lobacheva design; 2. – Sea collection "M-K". Fig. V. Baryshev; 3. – the championship of the USSR, 1985 to ship sport. Photo I. Alexandrov; 4-I p. – Door for any taste. Fig. B. Kaplunenko.
Modelist-KONSTRUKTOR 1986-03 PDF (download)