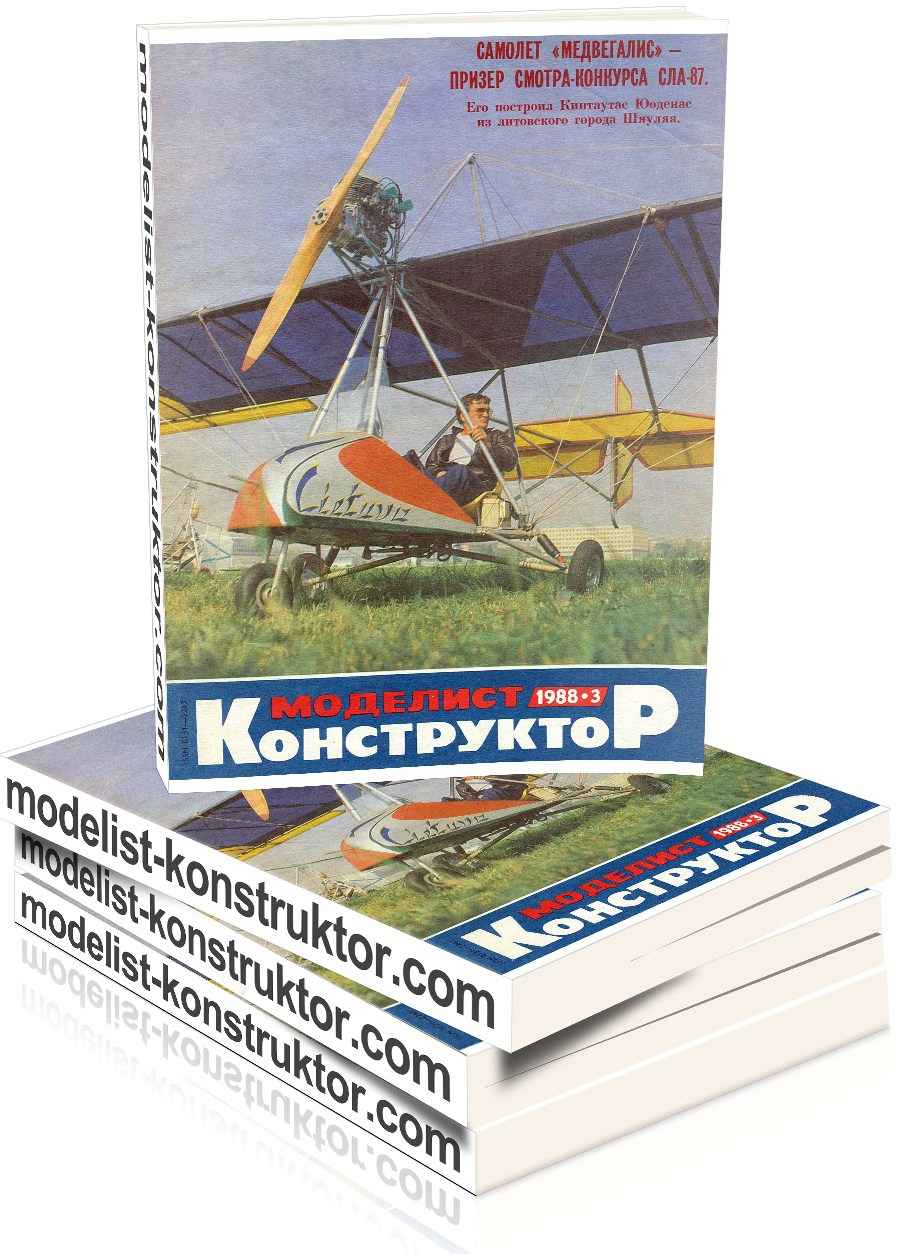 CONTENTS:
Addresses NTTM: V. Riding. In step with the times (1);
R. Sawinski. "Aerodzhip" from a machine (2).
ENEA – young innovator: (4).
Small-scale mechanization: S. Hovsepyan. Solar boiler (6);
Water Heater "Pyrogenic" (7);
I. Dembitsky. "Hanging" differential (8).
Public KB "M-K": S. Kuznetsov. Dirt road – not a hindrance (8);
D. Sukachev. The stages note (10);
A. Seriesnow, V. Kondratiev. In the sky Tushino – SLA (11).
Technique five: V. Mammadov. The baby in the family automobile (17).
Models in the world: A. Levin, N. Prikhodko. Taking into account the new requirements (21);
"Stayers" blue aquadrome (22);
A. Korobitsin, S. Kobzev. Championship class F1A (24);
A. Egorov. From complex to simple (26).
Advice to the modeller: (29).
Sea collection "M-K": V. Coffman. Boats to the open sea (31).
Furniture with his own hands: V. badanin. Cozy microcell (33);
V. Sadovnikov. Hallway old (34).
Around your the lens: V. Ivanov. Three in one (35);
A. Doronin. Tank-strainer (35).
Our workshop: Yuri Orlov. Universal burner (36).
Mechanical AIDS: V. khakhalin, Gress. Without wetting the hands (38).
Tips from around the world (39).
Electronics for beginners: V. Antsev. Miracle switch (41).
Computer engineering: circuitry: A. Yushin. Encoders (43).
Radio control models: Yuri Vasyukov, V. Larionov. The matching speed controller (45).
Reader – the reader: A. tychinin. "Drop-down" Board (47).
COVER: 1 page – contest SLA-87. Photo by A. Artemyev; 2-I page – young technicians in the city of Poltava. Photo by E. Rogov; 3rd page – photo Panorama of the "M-K". Making Zykunova. 4. – the USSR Championship 1987-model making (boys). Photo Of Yuri Yegorov.
TAB: 1st page – Show-contest ALS-V7. Photo by A. Queen; 2. – the Car VAZ-1111 "Oka". Fig. V. Lobacheva, photo by A. Semashko; 3. – Sea collection "M-K". Fig. V. Baryshev; 4-I p. – Club house masters. Fig. B. Kaplunenko.
Modelist-KONSTRUKTOR 1988-03 PDF (download)