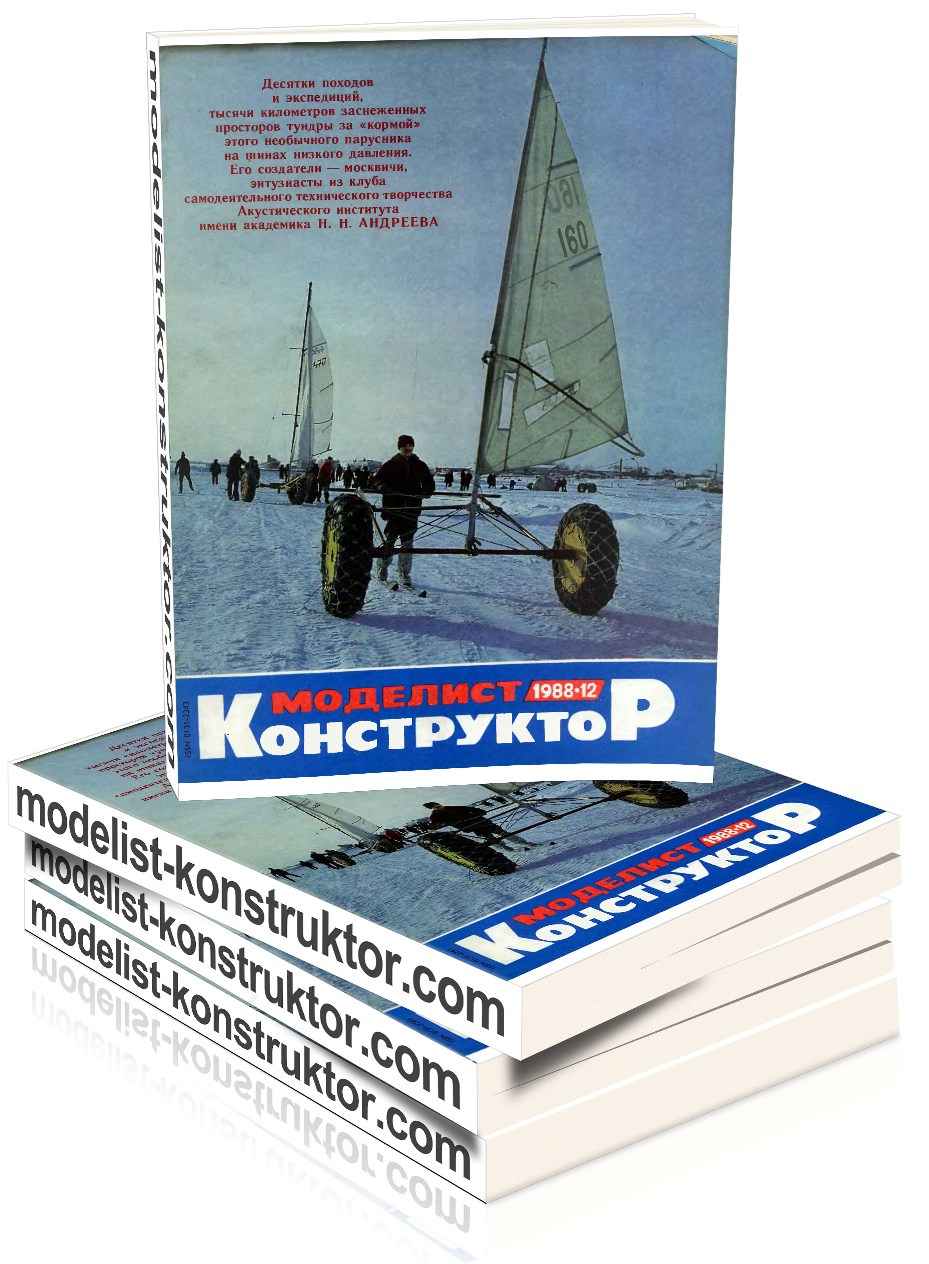 CONTENTS:
Organizer of technical creativity: V. Marin. Via passion – for the profession (1).
Public KB "M-K": V. Kondratev. Propeller – propeller (3).
Sea collection "M-K": B. A. Kolchanov. The main weapon of the mosquito fleet. Torpedoes (7).
Models in the world: V. Artshow. "Glisser" without motor (9);
V. Novikov. Racing class E1 (12).
Advice to the modeller: V. Gusarov. Stop water area (15);
M. Yevtikhov. Hand rails in miniature (15).
Make for school: Alexander Volkov. The computer plays chess (16).
Electronic kaleidoscope: (20).
Reader – the reader: (21).
Attention, experiment!: V. Viktorov. Aerobatic training becomes (22).
Furniture with his own hands, N.Fedotov. Dream lover (25).
Firm "I": V. Valleys. A pump-house under the ground (26);
V. Knyazev, A. Grishchenko. Garden house-shelter (28);
Yuri Shevchenko. Tree-"anemone" (30);
Lights lights the machine (30).
Tips from around the world (31).
COVER: 1 page – Yacht on low-pressure tires (authors: A. Smychkovich, A. Sadkowski, A. Ryabchenko); photo of Yuri Yegorov, 2-I p. – III personally-team championship CUT and syut aviation companies. Photo by V. Tikhomirov; 3. – the exhibition TTM in Plovdiv, Bulgaria. Photo I. Evstratova; 4th page – Catalog "M-K".
TAB: 1. – Sea collection "M-K". Fig. V. Lobacheva; 2-I page – On the school factory of "Berliner-TT-Bunion" (GDR). Photo By J. Carpenter. 3. – control line model aircraft class F2B. Photo by A. Queen; 4-I p. – Club house masters. Fig. B. Kaplunenko.
Modelist-KONSTRUKTOR 1988-12 PDF (download)