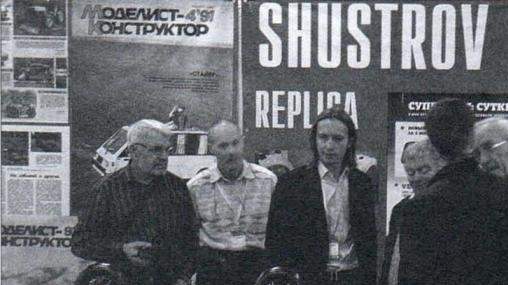 within the 18th exhibition of technical Antiques "Oldtimer Gallery", held from 15 to 18 September 2011 in the exhibition center Crocus Expo enthusiastic technical creativity Vadim Shustrova, was organized the exhibition titled "They built the car". "Andegraund of the Soviet automobile industry" is a tribute to the talent of designers-enthusiasts – people who do not have special education, but with the technical savvy and design talent.
V. Winkle (center in the picture below) among journalists and visitors near the car FOX, created together with like-minded Alexander Zhilin. The body is made of composite materials and weighs less than 60 kg. It is rigidly bolted to a bearing part of the chassis and the safety cage. The engine "VAZ", located behind the seat in front of the rear axle, making the car manageable.
Vadim gathered in many parts of Russia and brought to the exhibition the miracle of the surviving rarities, because most of them are no longer operating.