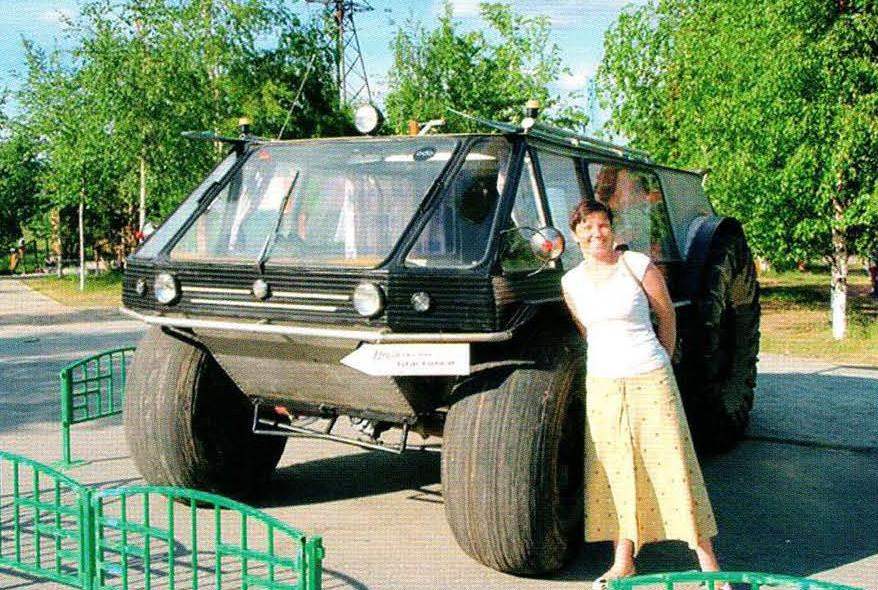 Vladimir Nikolaevich This already over 70 years old, but he still builds machines. All they had more than a dozen. Some of them are exhibited at exhibitions of technical creativity in Tyumen. And in Surgut, where he lives, took even his solo exhibition.
One of his last designs – amphibious all-terrain vehicle tires low pressure "Ob". The body is very light-made of aluminum alloy riveted, but sealed and made in the shape of a boat.
Drive axle – single, rear, GAZ-66, and the wheels on it from the tractor "Kirovets" with lightweight tires. The front wheels from KrAZ, too, with lightweight tires.
Engine – from VAZ-210З, CAT – from "the Muscovite-412", the transfer case from the GAZ-69. Additional Val "transfer case" goes to the propeller. This same shaft serves as a drive for various machines and devices, such as lumilikha pine nuts etc.