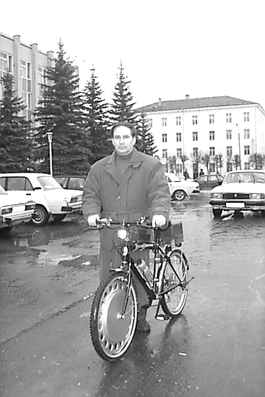 Our inventor with money our venture investor and international management is implanting the world for a new form of transport.
There was a famous private patent John L. Kolchinsky, – says the inventor of a new motor and the founder of "Ultramotor" Vasily Shkondin. — At the end of 1980−ies they all laughed at me except him. He first said that my invention is revolutionary, and from him I received the first lessons of business. He, at first, invented the name "Motor-wheel Shkondina", and secondly, said to me: "Do it like Bubka". Bubka does not jump immediately to SuperCard, and was added to one centimeter per year and was world champion for almost a decade. Now the company Shkondina on the approach to the first record in the e-bike market has.
Summer on the roads of India will be the first time the electric bikes by Ultra Motor with the original engine, created by Russian inventor Vasily by Kondinin. Company Ultra Motor ready at any moment to bring to market and other examples of "transport of the future", and financed development funds Flintstone Technologies and "Russian technologies" in a few years expect to get five times the profits.
Soon the British engineering company Ultra Motor (hereinafter UM) created by the English investment Fund Flintstone Technologies and venture Fund "Russian technologies", will launch its first project. She is going to bring to the market a new motor, which the West calls "motor-wheel Shkondina". Its Creator Vasily Shkondin is Director of development of the company UM and works in its Russian division. He heads based in Moscow, Pushchino innovation division, which is engaged in fine-tuning motor wheels and prototype vehicles based on electric traction.