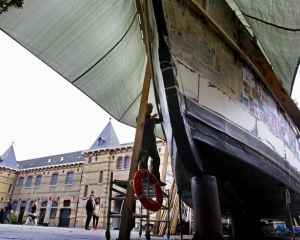 Paper the largest ship in the world has a length of 20 m and a height of 4.5 m
In front of thousands of spectators in the Netherlands launched the largest paper ship in the world.
The ship was built by artist marten winters along with about 3 thousand volunteers. It took them about two years.
The length of the ship is 20 m, height – 4,5 m.
Last weekend in Leeuwarden, the solemn descent of the ship on the water in the river Middelsex where the city is located.
However, he writes DNews, the ship is not entirely out of paper – he had a wooden frame that is covered with papier-mache.