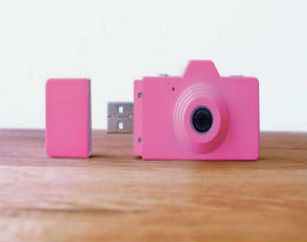 Normalizekey camera capable of capturing images with a resolution of 1280 x 1024 pixels and record video (720 x 480, 30 frames per second), the adepts from the land of the rising sun fit in the case the size of a normal flash drive.
This little girl called CLAP — not the miniature in the world, however, is definitely another example of the amazing compactness. The size of the new 24-gram "soap": 3.5 x 7 x 1.5 inches.
Sensitivity new camera ISO is 100 and is not adjustable. And far from the record. Any modern smartphone will do the job better. But inside the chamber built a small magnet. They can be used to mount the camera on a metal surface.
Megapixel the device saves the pictures on the card format microSD (the new model is available immediately with 16 gigabytes of memory included, and can be empty, but then the memory will still have to buy).
Miniature lithium ion battery is charged, you guessed it, via USB. 3-4 hours of charging enough on average for an hour of active use.
Contrary to the name (clap in English "to applaud, to slap"), the developers of the company PowerShovel has not provided the camera sensor, making the cotton in her hands. This name is rather an attempt to anticipate public reaction to a new product.
To be able to brag about "baby" right and left, will have to pay about $57 (without microSD — $47). And for the money you will not even be the LCD display on the rear panel. In General, those who are not interested in collecting miniature things, worth ten times to think, if I got a good purchase.
---
Inideology: