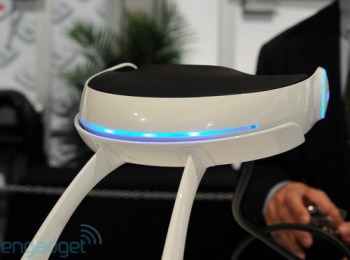 Sony Corporation officially announced the launch of serial production of new head display HMZ-T1 device that will open an innovative method of viewing three-dimensional and two-dimensional content. The device simply fits over the head and serves as a virtual screen, which is equivalent to 750 inch real.
HMZ-T1 has recently developed OLED-panel, the size of which is 0.7 inches. The resolution of such a panel составляет1280 x 720. Thanks to this panel HMZ-T1 provides high-definition and contrast, making the picture quality is just incredible. In addition, the device consists of separate panels for the right and left eyes, enabling the display of independent images in high resolution, realizing a three-dimensional effect.
The horizontal viewing angle is 45 degrees. This was achieved by using special optical lens to suppress unwanted audience noise and chromatic aberration. Of course, the device can also boast an excellent sound level 5.1.
The monitor can be connected to a special processor unit via cable, which is also included in the kit. In turn, the processor unit is connected by HDMI cable to the playback device.
In sale the novelty will appear on 11th November.