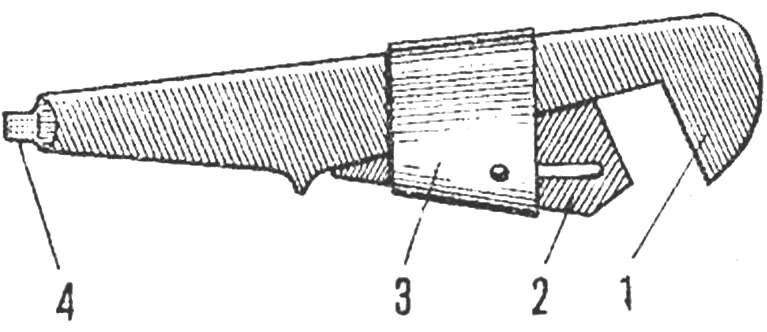 No, of course not with fire, as fire with fire as the saying goes, and… turn away. Because the wedge as the main element included in the design of the unusual wrench proposed Nikolaev innovators. The originality of the tool lies in the fact that in contrast to the known devices there are no grooves, rods, worms, axles. The key is extremely simple, reliable, very easy to use.
It consists of fixed and movable jaws sharing a flat frame. Working surfaces of the jaws are executed inclined relative to the longitudinal axis of the tool. The outer face of the movable jaw the stubble — has a wedge shape. It is manufactured and frame retainer that retains a given key size.
The wedge-key:
1 — fixed sponge 2 and the movable samozaklinivayuschiysya sponge, 3 — fixation frame, 4 — screwdriver.
With this design you can quickly set the movable jaw to the required position. Under load that occurs when loosening the nut, sponge wedged and firmly held frame.
The shank of the key may be in the form of a spatula-screwdriver, which gives the instrument greater versatility.
Recommend to read
EASY GOING
In the "Modeller-designer" has repeatedly published materials on woodworking machines-"circular saw" circular saw and planer, so necessary for the house masters. On this publication have...
THE WORM GEAR ON A LATHE
We offer to your attention a simple device with which a lathe can cut the worm wheel with any number of teeth. As the cutting tool used here is the standard tap mounted in the Chuck of...