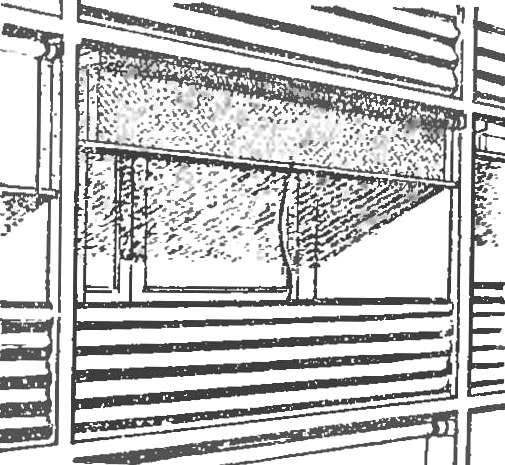 All good loggia! The only drawback — it is vulnerable to a slanting rain or snow. Some glazed it, turning it this way in the apartment, but this measure can not be recommended — the glassing of recessed balconies prohibited, because additional window cover holds fluorescent light and also gives the facade a slovenly appearance.
In my opinion, the protection of the loggias have to do such that it functioned only during rain or snow. This condition meets made me retractable awning of transparent polymer film. He is strong enough, in the collapsed position takes up very little space and almost does not obscure adjacent to the loggia room.
In addition to films, this awning will require tube Ø 20— 30 mm — it is designed for coagulation of the film. On the one hand is placed on the pipe end cap with an annular flow serving for winding fishing line of the lifting mechanism of the awning, and the other stub flange. The pipe is mounted on two brackets made from angled profile.
Film top and bottom podymaetsja and stitched with nylon thread so that in the formed pockets with some tightness inserted tube — top, which has already been mentioned, and a bottom diameter of about 10 mm, forming a hard edge.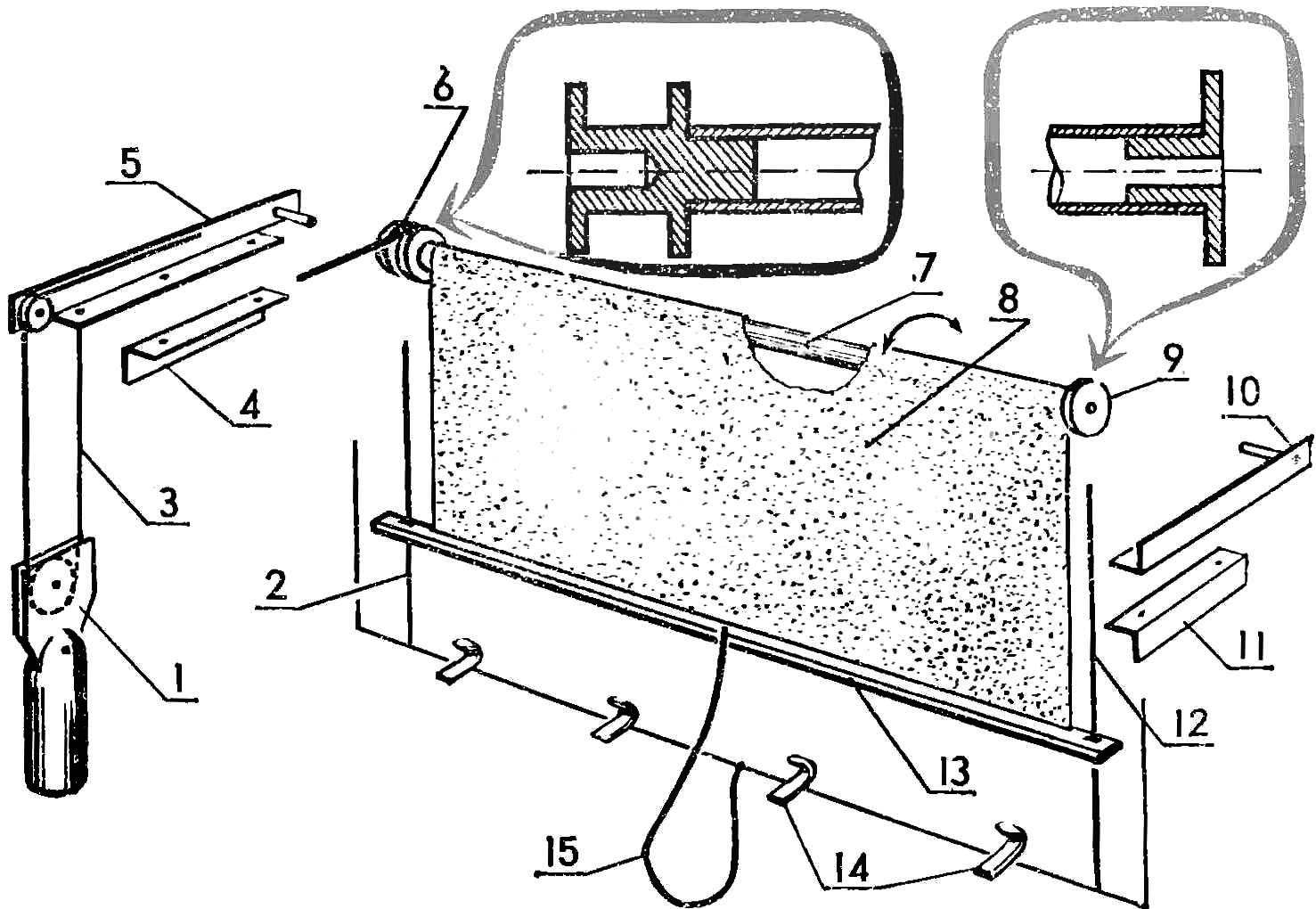 Awning design (view from the loggia):
1 — load unit 2, 12 — the cord line (nylon fishing line), 3 — line lift mechanism awning, 4 — seat angle (steel 30X30 mm), 5 — bracket to the unit and the pipe axis, 6 — pulley-plug 7 — pipe, 8 — plastic film, 9 — plug with stop collar, 10 — bracket with shaft, 11 — bearing area, 13 — Kant (tube Ø 10 mm), 14 — hooks-grips, 15 — cord for lowering the awning.
The lift mechanism awning set up so that the film rises (wrap-on pipe) under the action of a Georgian hanging on a movable unit, and in order to lower the awning, it is sufficient to pull down the lower bound to the piping cord and lay edging for a cap-hooks. To ensure the smooth lifting or lowering of the awning (especially in the wind), through the holes in the ends of the rigid Kant missed two vertically strung fishing line guides.
This tent has served me for four years now and to this day is in very good condition.
Recommend to read
STAINED SHEETS
In some modern homes the doors of the rooms and the kitchen glazed patterned glass. If it is accidentally broken, then buy a replacement is difficult. Not to run to the shops, use normal...
"WIND COAT" — THE DREAM OF A SKATER
To race around on skates at a speed of about hundreds of kilometers per hour, it is not necessary to have some special sports data or gigantic physical strength. "Tailor" yourself "wind...