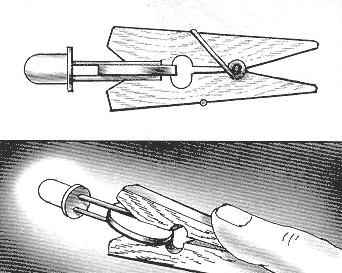 A makeshift flashlight can be made from clothespins, two drawing pins, disc batteries and a bright led. Disk battery should be installed between the findings of the led, observing polarity, and secure a linen clothespin.
Recommend to read
Renault DUSTER
Increased need of our population in the budget vehicles to a large extent satisfied by the products of domestic car Assembly enterprises. Currently, the Moscow plant "Avtoframos"...
THE HOOK OF THE NEEDLE
To restore the native line in the repair of belts, straps, bags, small hook. But knitting is too big, and thin enough to make yourself uneasy. I propose to use an awl with a tiny hook of...