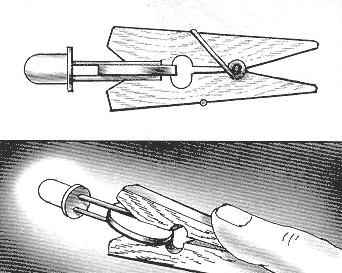 A makeshift flashlight can be made from clothespins, two drawing pins, disc batteries and a bright led. Disk battery should be installed between the findings of the led, observing polarity, and secure a linen clothespin.
Recommend to read
CHEST-PYRAMID
In the attic of the house the space under the internal staircase is often not used. And by the way, in this place it is possible to organize a closet, closet or as shown in the figure, a...
OWL, OPEN UP! THE BEAR CAME!
Many imported models of the industrial housing calls does not stop the flight of thought of an Amateur designer, but on the contrary. To install the house call that will surprise and...