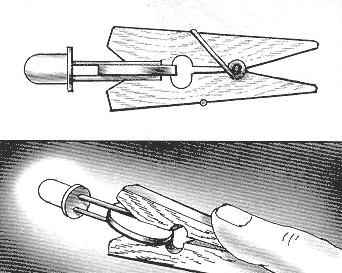 A makeshift flashlight can be made from clothespins, two drawing pins, disc batteries and a bright led. Disk battery should be installed between the findings of the led, observing polarity, and secure a linen clothespin.
Recommend to read
INSTEAD OF ROULETTE
Fishing pochuchut on himself, saying boastfully among them is easy to determine the bruising above the elbow so he shows off the size fishing line fish. Hand will be more whole, if on...
FLIGHT "ON THE BACK"
To train novice of group members control cord model aircraft is a difficult task. And in inverted flight, or as it is called, in flight "on the back"— all very complicated. It affects...