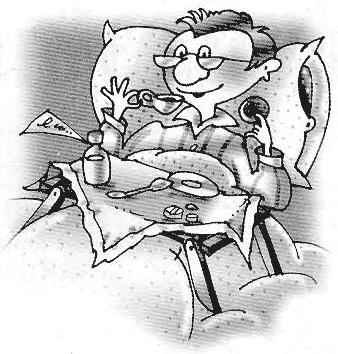 "If I get sick — go to the doctors won't; turn to friends…" — wrote the poet J. Smelyakov. But life shows that you have to apply to doctors and friends, because without their help, it is often impossible to do, especially bedridden patients.
If bed rest was delayed, it would be nice to make for fell ill necrolatry table, which is shown in the figure. He can serve a light tray, and a dining or work table, and even a kind of "stand"-stand on which the desired angle is located, for example, a book or manuscript, drawing materials, and a modern version — portable video devices, and even laptop.
Features of the device
Desk design is simple but functional, since it can act in the three mentioned types due to the characteristics of your device. Of the main parts, especially table — top and folding legs, framing her sides and turns at this stage the table in a kind of tray. Being lowered, the legs of the table hold it steadily on the bed, because they have a fixed position through the bars to the stops.
The top runs a two-layer panel-the bottom and top panel, which can ride up and be at work the required slope, fixing in this position, a simple flip stop.