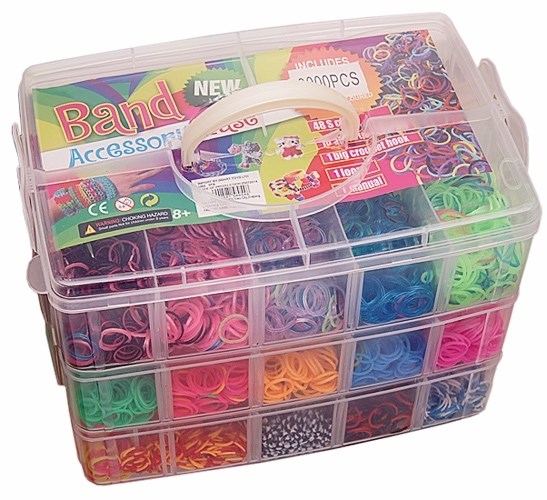 To develop a sense of taste, creative and desire to be unique allows a set of Rainbow Loom Bands. This kit allows girls and boys to stand out from the environment, adorning your look with stylish bracelets, key fobs and other bright stuff.
Today a set of rubber bands Rainbow Loom Bands became widespread among teenagers from around the world. Millions of children decorate their hands with bracelets attractive. Thanks to the unique technology of weaving, each bracelet is different. Bright, stylish and sturdy elastic will not leave anyone indifferent. In order to create really great things, you can try to get rainbow loom bands tutorials. Learning some of the subtleties and nuances of weaving, girls and boys will have more opportunities to do things that can confidently be called a work of art.
If we talk about all the benefits of a set of Rainbow Loom Bands, we can note its versatility in use. This kit will not only be an excellent purchase for your child, but also the excellent gift for other children. Bring this set on the occasion and handing it to the kid not only embarrassing, but also very profitable. Parents whose children will spend a lot of time for weaving bracelets, not for computer games will be very grateful. After all, this hobby develops memory, imagination, motor skills and perseverance, forming good habits.
And if you watch Rainbow Loom Bands are the lessons that give experienced craftsmen, we can learn a lot of interesting and important information. To weave the bracelets will be much more interesting and faster. In addition, the elastic bands allow to make not only bracelets but also key chains, decorations for the room and a small souvenir. It should be noted that today there is a dress composed of loom bands loom Bands. This masterpiece costs a lot of money and captured the hearts of millions with their beauty and originality.
Paying attention to successes other quilters, it can be concluded that rainbow loom bands are the lessons important in the attainment of this art. After training, perhaps boys and girls can create a masterpiece that will appeal to millions of people. But if the masterpiece does not work, it will be possible to create a bright, beautiful and stylish things for a gift to your family, friends and loved ones. Don't rely only on their strength, after all, a lot of interesting and useful can be gleaned from the lessons that give other masters.
S. ROMANOV
Recommend to read
BUILDING A CAR
Amateur designers often begin construction of the car, relying only on intuition, without any calculations. Most often in such cases the performance of the machine be not the such of any...
THE ADVENTURES OF THE "JUNKERS" IN RUSSIA
Some of the development of German designers during the Second world war continue to surprise the experts to this day. These include the creation of jet Sukhoi company "Junkers".   ...