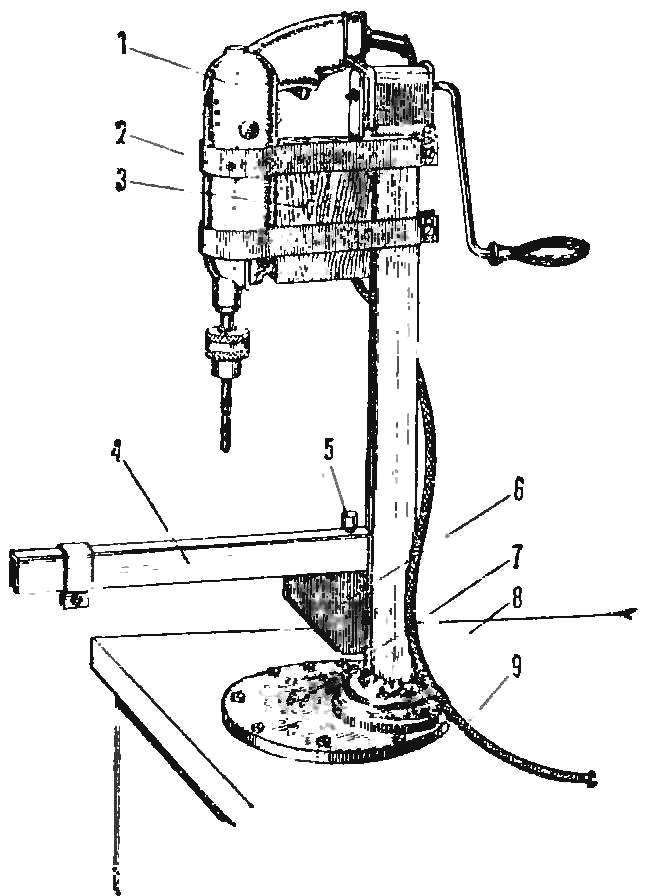 …drill press, which I use for several years and are quite happy. Make it can anyone who loves tinkering. The design shown in Fig. The drill is fixedly mounted in the upper part of the Jack by two clamps of flat steel. Gasket between her and Jack is a wooden block. The table is made of steel profiles, U-shape, it fit in with the moving end of the Jack bolt M8. To make the machine more stable, its abutment provorachivayut to any lasting basis.
Drilling machine from Jack and drills:
1 — drill, 2 — clip (steel), 3 — wooden block-laying, 4 — table (steel profile) 5 — M8 screws, 6— movable heel Jack, 7 — base machine, 8 — basic heel Jack, 9 — cord.
Recommend to read
SCHOOL OF AIRCRAFT (PART 5)
GLIDER OR GLIDER? Unpowered gliding flight has long attracted man. It would seem that what is easier is attached to the back wings, jumped down the mountain and ... flew. Alas, many...
PRECISELY IN THE PURPOSE
Playing Indians, army scouts, or as they say, "war games", often not complete with throwing knives, Darts, archery in the target. And the desire to get to the center ("ten", "Apple")...