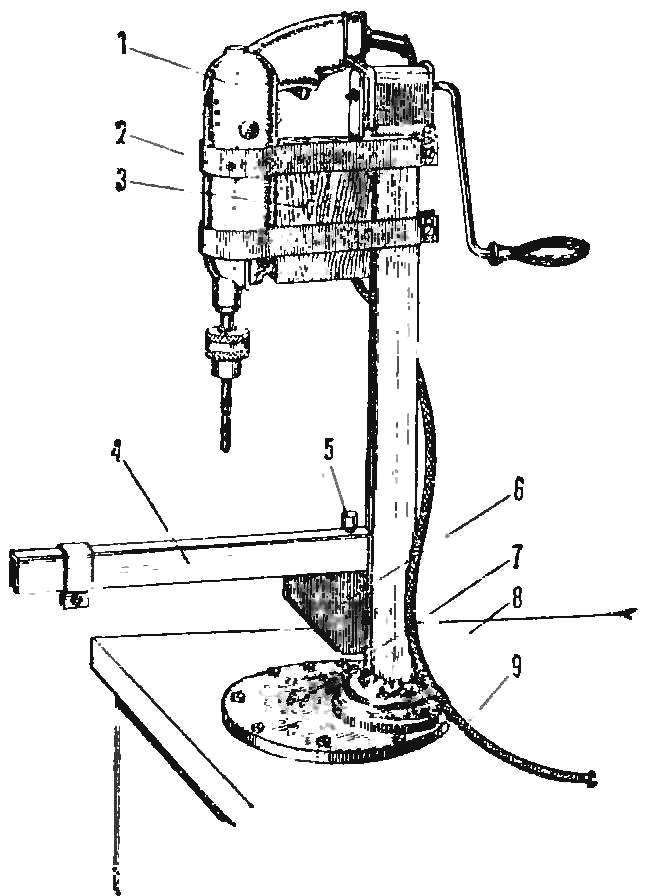 …drill press, which I use for several years and are quite happy. Make it can anyone who loves tinkering. The design shown in Fig. The drill is fixedly mounted in the upper part of the Jack by two clamps of flat steel. Gasket between her and Jack is a wooden block. The table is made of steel profiles, U-shape, it fit in with the moving end of the Jack bolt M8. To make the machine more stable, its abutment provorachivayut to any lasting basis.
Drilling machine from Jack and drills:
1 — drill, 2 — clip (steel), 3 — wooden block-laying, 4 — table (steel profile) 5 — M8 screws, 6— movable heel Jack, 7 — base machine, 8 — basic heel Jack, 9 — cord.
Recommend to read
TAPS — ON DOWEL!
The heel of any Shoe wears out the fastest. To replace the erased printing is a snap. Especially if the body of the heel solid. Then a piece of corrugated rubber, you can just stick a...
THE SECOND LIFE OF AEROSOLS
Cylinders from under the aerosol can be used repeatedly, if you apply a small improvement. This requires only valve from the tire of a racing bike... and a little ingenuity.   THE...