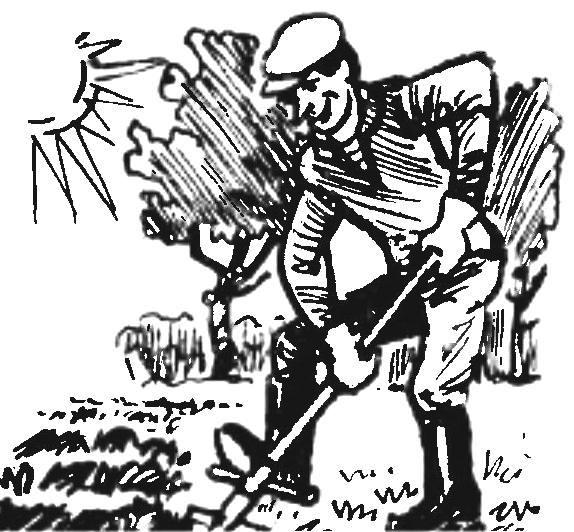 Not just once or twice I had to dig up waterlogged clay soil at the site. The earth clung to the shovel in such numbers that further work without purification was simply impossible. Remove soil from tools, too, was difficult and took more time than the digging.
Pretty worn out this kind of work, I decided to make a special shovel.
I thought about the design, manufactured and tested their new tool.
The soil on the plane of the shovel was not sticky, because it only has a thin rod Yes narrow blade. The cutting edges of the blade are well through the soil, cutting the roots of weeds. The tool provided the treatment of the earth as with coup or without coup layers. In General, the result I was quite satisfied and therefore the design of the shovel I want to share with those who too often and in large quantities to dig wet clay soils or rich black earth.
Special shovel:
1 – blade (steel 45, s2,5); 2 – rod (steel pipe 26,8×3,2); 3 – resistant cross bar (steel pipe 26,8×3,2); 4 – pipe cutting (steel pipe 42,3×3,2): 5 – handle; 6 – insert (steel wire is Ø4)
Most of the parts of the shovel is made of round steel pipes of different diameter, with wall thickness not less than 3.2 mm. the Blade is made of a steel plate (steel 45) with a thickness of 2.5 mm, although it would be better to make it from tool steel, for example, U8. The handle is same as the ordinary round-pointed shovel, wooden, from cherry.
The installation angle of the blade relative to the rod 13-15° and stem to the stalk of 18-22°. Thanks to these angles, the shovel enters the ground gently, moving it along the curve, cutting the roots of weeds.
The blade with the rod fastened with rivets, the remaining welded connections, but quite acceptable riveted or bolted.
V. CHISTYAKOV, Kamensk-Uralsky, Sverdlovsk region.
Recommend to read
A BLIMP WREAKING FOREST
Thousands of people are collecting seeds, preparing soil, growing seedlings and planting them in place of felled forest. One-two seedlings no problem, dug a hole, covered the tree with...
IN THE GRIP OF VERSAILLES
The remaining after the 1st World war, the main defeated, Germany was disadvantaged their opponents, as they say, in full. Not escaped the almost complete destruction of the German...