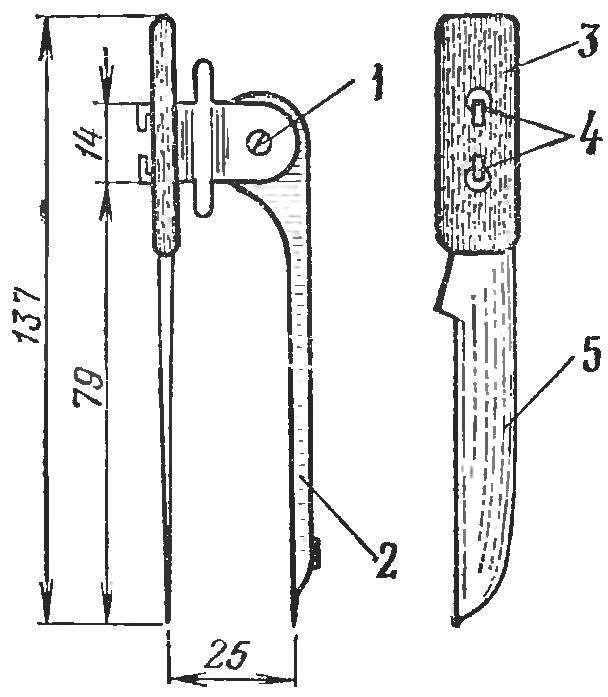 It took me home a few flat rings of cardboard. Cut with scissors for a long time. I have set a goal to make the device comfortable to simple.
In industry, these rings are made die-cut stamps. To make such a stamp at home difficult. I took a knife (folding, pocket, price of 22 kopecks), drilled in its hilt two holes of Ø 3 mm and attached circular foot as follows (the circular leg of the enterprise LSSM, price 42 kopecks). Circular leg pencil has a mount, whose top and bottom three petals. Central petals I bent back outwards by 90°, inserted them into the drilled holes of the handle of the knife and bent towards each other.
1 — screw legs, 2 — in circular foot, 3 — knife handle, 4 — petals feet, 5 — blade.
Using my devices, you can cut circles with diameters from 20 to 200 mm.
Recommend to read
SECOND LEG FOR "TOURIST"
Difficult one, without an assistant, remove the rear wheel with a rather telogo scooter "Tourist". All this has forced me to make arrangement — additional support with screw lift: it...
DRILL PIPE…
I want to share with the readers one very simple method of drilling holes in the glass, which I was taught many years ago Professor N. A. Artemyev. The method is attractive because it...