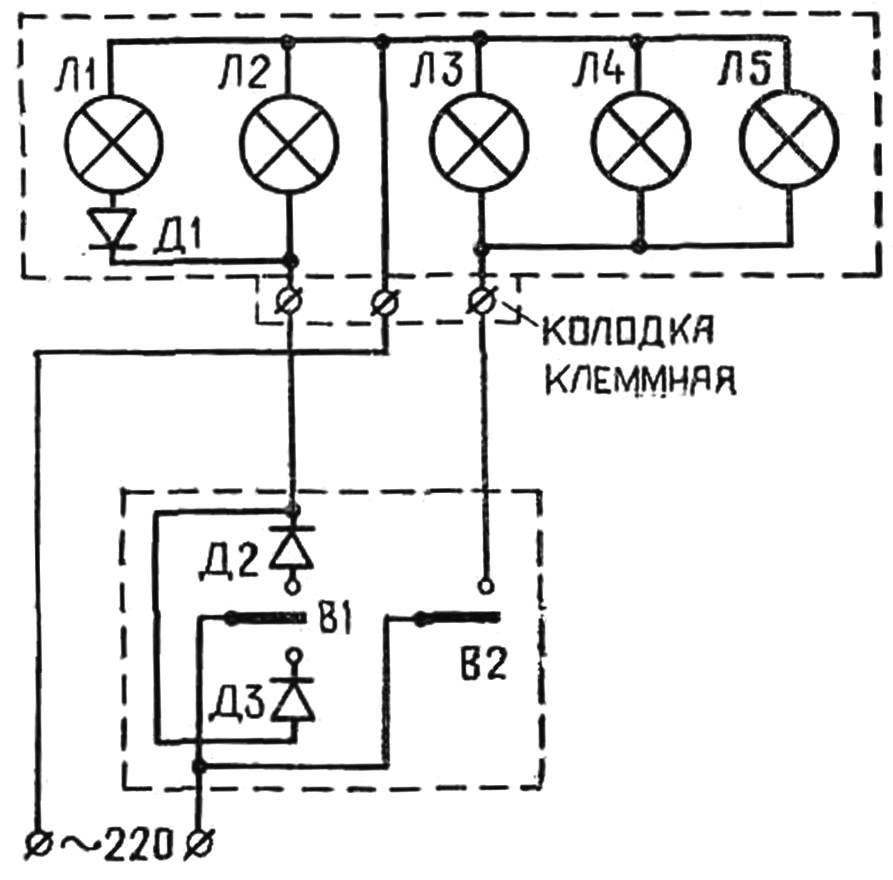 The majority of apartments have internal wiring is three wires, one of which is zero, and the other two are derived for the switch. In the slot of the switch there are three wires, two for the chandelier and one of phase. This combination in petrokova the chandelier only four possible combinations: 0; 2; 3; 5 (lamp).
The device depicted in the diagram, allows you to have six combinations: 0; I; 2; 3; 4 and 5. It works like this. In neutral position both switches B1 and B2 not one lamp is not lit. In the upper position B1 lit the lamp L1 and the lower burn of L1 and L2. The translation of B1 is in the neutral position, and B2 up, light L3, L4 and L5. If at this time to manipulate the switch B1, it is possible to light all the other lamps.
Since the lamp L1 and L2 are used for their inclusion of half the energy (due to the use of diodes), they should be 127 V. All other lamps on 220 V.
Diodes D1 —D3 type: Д7Ж, D226, Д227, Д239.
Switches B1 and B2 — all for three positions.
The device has been proven in continuous operation.
E. Pashenko, Julie, Moscow
Recommend to read
ABOUT HOW MODEL AIRCRAFT DID
Any machine is not born suddenly starts with something more simple. It happened with the plane-monoplane. Its forerunner was destined to become a flying model. Was 1887. Professor of...
ON "WIND" WITH THE WIND
Little micro-car "the Breeze" was created three years. It was conceived as a double jeep with a canvas roof, flat windshield, three doors, the side from which the glasses had not. A year...