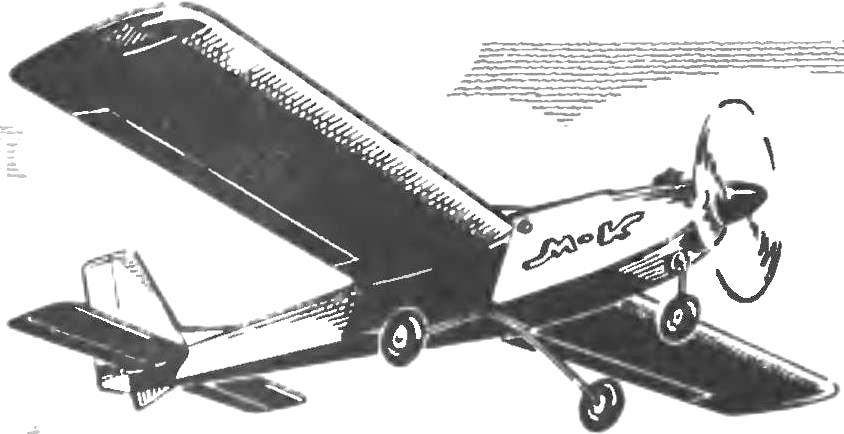 Despite the many difficulties of various kinds that occurs at each step of the athlete or Amateur Modeler, RC aircraft not yet "died out" among the mass of the cart. Oddly enough, on the contrary, in recent years they are becoming increasingly popular Probably, this is due to an enduring interest in the most complex kind of modeling and at the same time on our appearance more than the poor modelistica "market" instrument of cooperative production. Not to say that it's world-class products. But it is "down" above the same "Supramar" and is already able to satisfy the needs of novice and developing athletes — circuit decisions in a number of cooperative rulemaking and receivers close to the Western products.
For every one who was finally able to buy the coveted instrument, immediately the question arises a considerable difficulty: how to lay model? The solution of this problem on the proposed development.
The basic principles that served as the basis when designing the model: sufficient simplicity, accessibility and, most importantly, high performance properties at different flight speeds and specific loads. After creating working drawings and interconnection of the nodes was built three completely geometrically similar models differ from each other only power circuit and motor units (and consequently the specific load on the bearing surface). Tests of the three devices showed that with careful error free performance of the plane, its aerodynamic configuration satisfies the requirements within a wide range. All models without any problems can not run with the chassis, and with the hands; flight even in windy weather resistant; responsive control in all axes, and at smaller angles of deflection of the rudders degree of stability allows trust to fly RC, even for beginners. With a full rudder any modification of a micro-airplane with sufficient power of motor "twists" the basic aerobatics. Very broad opportunities both in terms of initial training and the development of skills of piloting this model with two-channel control (Elevator and ailerons). Of course, anyone can try the classic combination of Elevator and rudder dual-channel option. However, it appears. that such "beginners" not only will be limited by the degree of proteraiotita, but will also bring a number of useless skills in the complicated control principle.