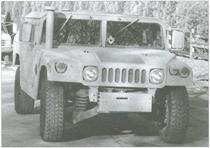 After the First world war, the car confidently entered the arsenals of all armies, effectively replacing cavalry units and horse-drawn vehicles at the same time with the advantages of this type of technology was evident his shortcomings. So. military all over the world started talking about the unification of the army fleet. They wanted to have a universal chassis capable of small alterations to carry infantry units, may be used as a machine gun car, serve the mobile radio, light or sanitary staff van, towing artillery and chassis for armored car.
USA during the Second world war did not create a car "for all occasions", and has standardized two sample – light Willys MB jeep ("jeep") and a relatively heavy Т214 Dodge ("Dodge 3'4"),
Supplied these machines to almost every country in the world. As wear them change on the same model, for example. MB jeep M151.
Over time, however, the us military, prise to the conclusion that "Willis" is not perfect: it is close to transport soldiers with full kit, low power for towing artillery, it is not suitable for booking And noticed it not only in the US, more and more countries for their armies began to buy British, German or Japanese jeeps.
In the late 1970s the us army has also announced plans to replace army jeep M151 vehicle new project. In the automotive market began the military order volume of about $ 60 million. and even more. In 1979, the Pentagon announced a competition on creation of the multipurpose army vehicle ХМ966, to participate in which were invited from the U.S. and other countries. Stipulated high versatility, the possibility of arming a heavy machine gun or a rocket launcher "stinger". Requirements for patency was high: ground clearance 410 mm, movement by 60% slopes and 40% slopes and overcome vertical obstacles up to 0.46 m and water obstacles depth up to 0.76 m.