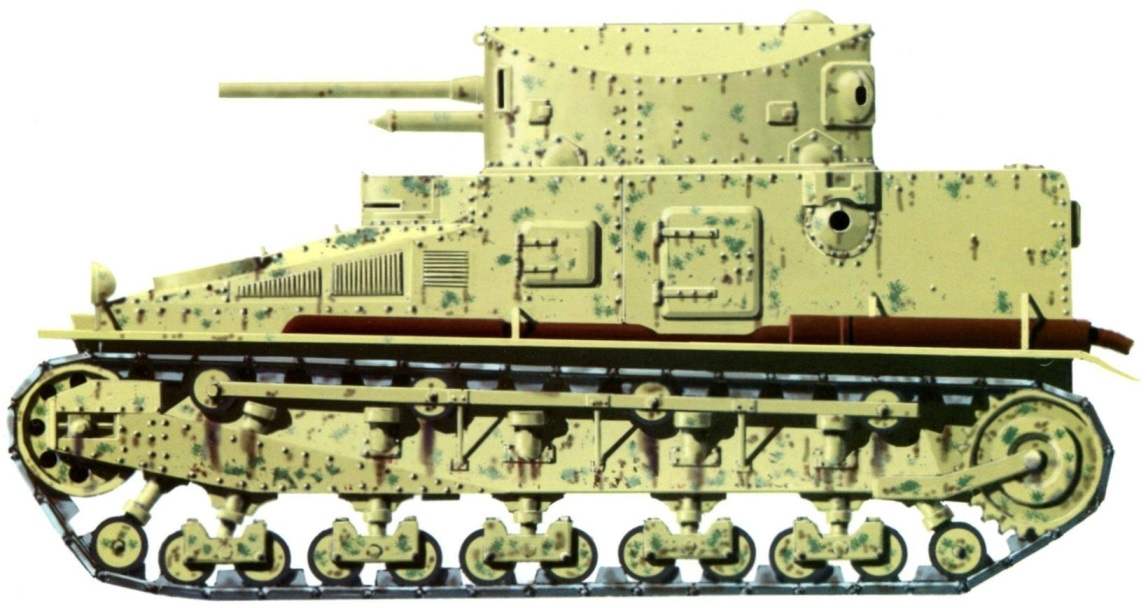 The development of the project tanks for the British army in the early 1920s was run by the company "Vickers" — England's largest manufacturer of weapons and armored vehicles. The new machine began to enter the army in 1922 and received specification of "Medium tank "Vickers" mark I" and the designation MK.I. Behind it rose the name of "Vickers", "Medium", she was also known as "Vickers" 12-ton". Within ten years it was the only medium tank in the British army. The modification of the base sample had the designation MK.II, MK.II* ("star") and MK.IIA issue 1926/1927.
Serial medium tank of the 1920s was pretty fast and developed a speed of 26 km/h. However, the most impressive was the service. So, in the tower with a circular rotation of the installed 47-mm cannon, which was six machine guns, "Vickers" with liquid cooling. Four of them were in the tower, and two in the stern. Two more were placed on the sides of the hull; they had machines, which allowed firing at the planes. On the latest model of this tank there was even a special gun for anti-aircraft fire, which was located in the recess on the rear section of the tower.
The tower itself was cylindrical in shape. The thickness of its armor was extremely small — only 8 — 16mm that could protect from bullets, but not from shells. Armor protection has decided to increase due to the introduction of the side and stern of the bevels. Initially, the tower was missing the commander's cupola, but then it is still set.
The engine of the tank was located in the front and drive wheels at the rear, which required a driveline under the floor of the fighting compartment and, accordingly, increased the height, but at the same time increased its security. The original solution was a removable floor panel to facilitate access to the gearbox and differential, so service them, no problems. But the presence of the radiator grilles, is located again in front and on both sides of the fighting compartment, was a serious drawback.