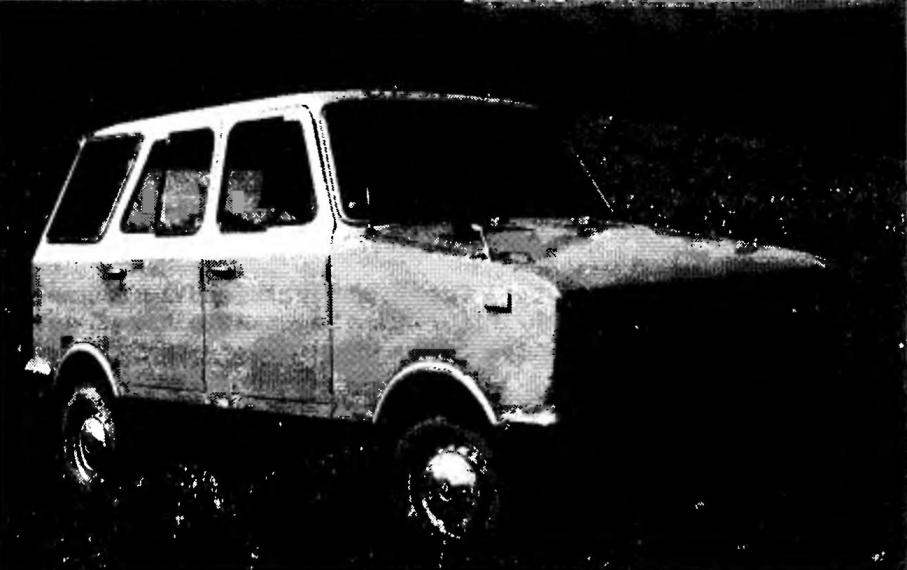 "When I recorded "Jisu" in the traffic police, major-inspector to find fault with the documents did not. I leafed through them and said: "let's Go see your car". Walked around it, looked under the hood, under the bottom, then sat in the cockpit and says, "let's Go!" We got on the highway, ride. At the end of the major shows on the hill: "got it?" I'll try, I say. Began to climb. Passenger my stiffened in the seat. Yes, and I was not myself — the slope is almost 45 degrees, almost lying on the backs… But "Jessa" — well, climbed to the top. Where now, you ask? Major briefly: "MREO". Then quietly, as if to himself, said: "Here not even a single vehicle is not stopped. What else is there to check?!"… From the story of the designer of the vehicle V. A. VERBYLA
All-wheel drive all-terrain vehicle "Jessa" — a new page in the technical work of Vasily Alexeevich SUPER-BIEL, Amateur designer from the village of Zelenchukskaya, Karachayevo-Cherkess Republic. In previous publications "the Tillers — nothing in excess" and "a Trusted assistant to the tillers" ("modelist-Konstruktor" No. 2'98, and No. 3 in'98) described his walk-behind tractor "Elektronik" and the cargo truck. Now it is the turn for the car.
The name of his car was in honor of the village closest to table mountain. On top of it, however, he has not been, but in the adjacent kilometer hill climbing — took the gliders. The author also had the opportunity as a passenger "Cissy" vyezzhat on the hill about 70 m And the behavior of major-inspector it seems quite logical, as the author, discovering during the ascent, his head suddenly appeared below the feet, and the jeep kept climbing upwards, he felt quite mixed feelings.
On the flat top of the hill we waited for another shock, literally. Moving in the tall grass, we felt a strong blow. It turned out that the car had hit a boulder the size of a big bucket and emptied it from the earth. The day before this happened with a car of a friend of Vasily Alexeevich. On the river his "Zhiguli" engine "caught" a stone of a smaller size. Experienced motorists know what it turns for the machine. In our case, inspection showed that there's no major damage. Only on the rear propeller shaft we found a long but shallow scratch. Yes, the Soviet helicopters were made to last. No wonder driveshafts for my car Sverbil chose helicopter, made of durable steel. Hence, such non-significant impact.