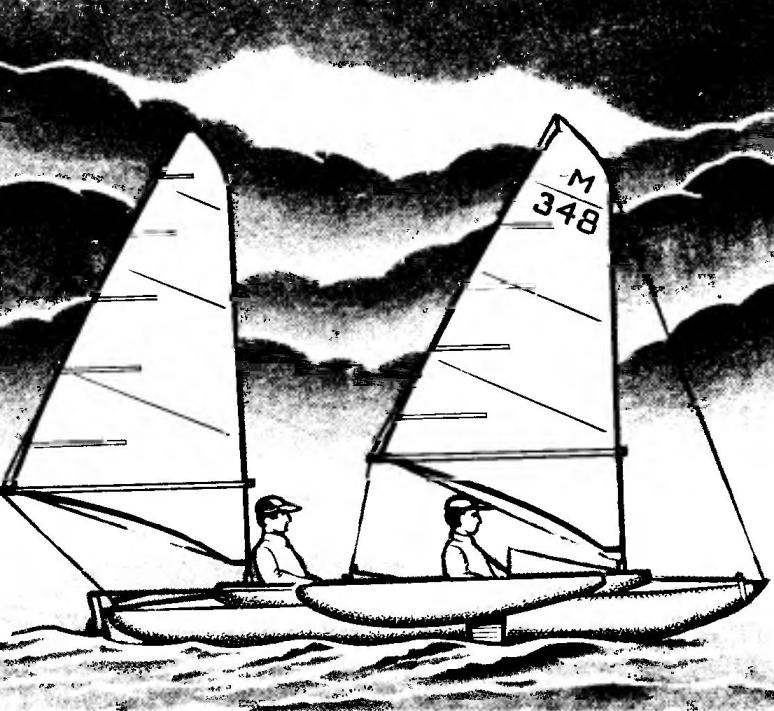 Whether on forces to build a yacht for the beginner to sailing matters, having in disposal only the materials from the stores "Do it yourself"? The main problem that he faced at the beginning of their labors, is the choice of design of the future vessel. Once a few years ago in a similar situation, I decided that the easiest way is to make the sailboat of the tourist serial portable kayaks. And of all the published canoe designs the most attractive seemed to me project boat-trimaran.
The main reason for this choice was purely romantic: the word "schooner" was a smell of tarred rope, heard the rustle of the waves, it reminded of the South seas, pirates and treasure. But my choice proved to be successful in a practical sense: the ship was very reliable, simple to assemble, with good performance and seaworthiness, suitable for racing, and Hiking. Trimaran (Fig.1) performed well in the spring rally Uglich — Konakovo — shore Sailing, Hiking Apsheronsk — Tver — shore Sailing (the crew consisted of one person), two-to three-day family hikes and races, held on the Sailing shore. The kayak is practically not altered and remain fit for rowing trips.
The design is based on a tri — power frame (Fig.2), all parts of which are connected to each other "vnatyag" without play, providing the rigidity, and removing the excess voltage from the power set of kayaks. The stiffness of the frame allows the crew to freely otkrenivat the ship in a fresh breeze, sitting on the side benches. Due to the fact that the frame is raised above the level of the bulwarks kayaks on 150 mm side floats is also raised above the water. This allows the trimaran to go only to the main building, and this mode is very advantageous, for example, in the race. Floats-outriggers large amount can do without adreneline, ensuring the safety of navigation even in heavy wind. They are mounted on two transverse beams of the Central section which includes the structure of the power frame.