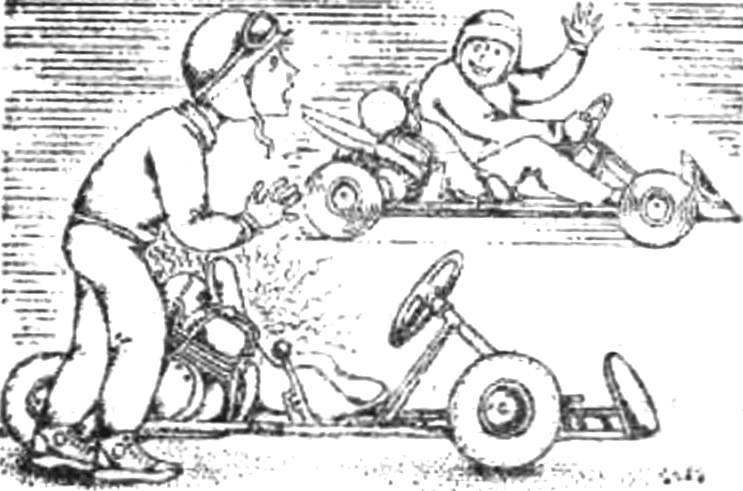 In such technical sports, such as motorcycle, automotive, karting, and beginner athlete and the more experienced master in competition or in training often have to drop out of the race due to technical defect of the engine, in particular breakage of the crank mechanism.
Sports cars such as cards, commercially available two factories are the engines of motorcycles "Kovrovets", "Sunrise", M-105, M-106 with an engine capacity of 125-175 cm3. The engines of these brands do not meet many requirements that are presented to them by athletes during competitions and training. When working with maximum loads output frequent cause of engine failure is bearing lower crankshaft journals, appearing at critical moments in the conditions of insufficient lubrication.
At the Kharkiv regional station of young technicians, in the laboratory of autocostruzione designed and manufactured a prototype two-stroke engine with forced lubrication system of the lower connecting rod bearing. The principle of this system lies in the fact that the oil is fed to the lower connecting rod bearing not the pump, but due to dilution in the crank chamber.
Experimental work was carried out on serial domestic motorcycle engine M-106. By extrusion of a finger-connecting rod crankshaft can be disassembled into five basic parts: left cheek, right cheek, connecting rod, cage and roller, a native of the finger. Then, in the left cheek of the crankshaft is drilled a radial hole O 3.5 mm; its axis must cross the axis of the finger crankshaft crankshaft bearing journal and crank cheeks. In the root of the neck left cheek of the crankshaft, in the area of labyrinth seals, indicate instead .to the axis of the neck drilled O hole 2.5 mm. Due to the fact that the native finger crank mechanism is made of high-alloy steel and has high hardness, the drilling process is extremely difficult. Better hole to go to the electrospark machine.