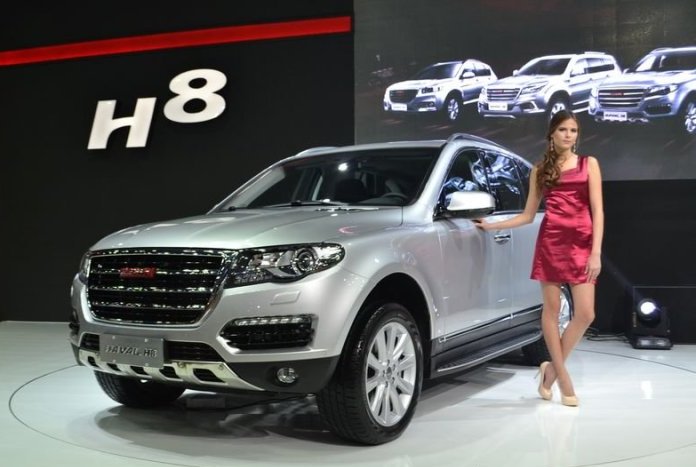 The debut of the crossover class K2 of Great Wall Haval H8 was held in the spring of 2013 during the traditional auto show in Shanghai. Serial production began six months at the company's plant in Boudine. At the Great Wall are proud to say that workshops are equipped with the most modern equipment, purchased from the best Spanish, German, Swiss and Japanese firms.
In Pornebony no secret that Haval H8 is the heavy artillery of the Great Wall, on which great hopes are pinned. According to the manufacturer it should be not only a crossover, not just the flagship of the range, and a full SUV business class, which will compete with Land Rover, Audi Q7, Volkswagen Touareg and the Toyota LC200. However, the frame had no suspension of the automobile, connecting the front axle controls the automation. Thus, we would not call this car a real SUV. But if someone thinks differently, then why not? This brainchild of the Great Wall has all the chances of success, because it turned out very good both in design and technical equipment.
The interior of the car looks very decent, especially compared to other "Chinese." In finishing salon used quality leather, soft pleasant to the touch plastic. Of course, to the European level there is still very far away, but with classmates from South Korea and the United States can already compete on equal terms. And more importantly, inside absolutely no odor, so characteristic of the Chinese automobile industry.
The dashboard refers to the German school. The speedometer and tachometer are hidden in deep wells and are located on different sides of the steering wheel. But the media system and trip computer look a hundred percent Chinese.
The inner space Haval can rightly be called a huge. In size it is close to the Mercedes-Benz ML 166-m body, as well as VW Touareg. But if by chance you happen to be the middle passenger in the back row, it is unlikely that you will be comfortable. In the legs would be the transmission tunnel and the back will abut the folding armrest. So driving a long distance will be a test. For the rest of the journey will be comfortable, well, if only not to go on the stone pavement.
Most auto experts say this is an absolute progress of the brand Great Wall, and that the urban crossover Haval H8, one of tangible proof.
Recommend to read
SPRAY? DISK!
For chemical protection of agricultural crops from pests and diseases, and in making micronutrients during weeding chemicals are usually converted into coarse aerosol, which is directed...
AND PACKAGING — IN THE CASE
Just a sharp knife needed to turn an empty plastic shampoo bottle, washing tools, preparation of household chemicals in a number of useful things: a ring with a small eyelet can be used...