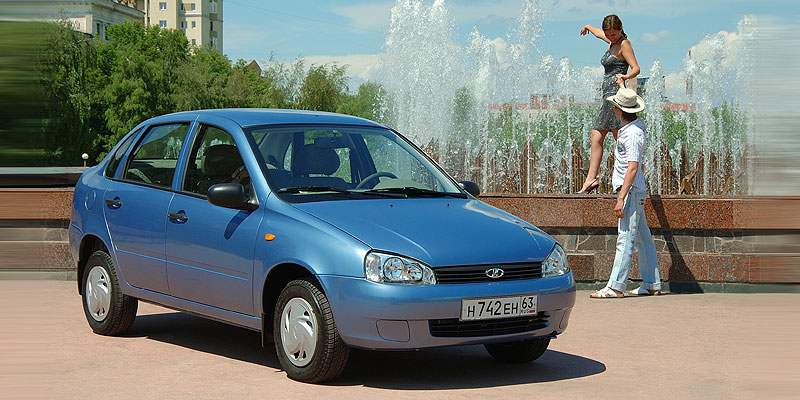 A new family of cars VAZ-2118 "the guelder-rose" is only the third in 35 years of existence, the Volga automobile plant — after "penny" VAZ-2101 and "chisel" VAZ-2108/2109 — really new, not previously upgraded cars.
The development of this machine experts Vase began about ten years ago. The design machine was engaged in Evgeny Lobanov, the current head of the design center of the Vase. In the process, managed for the first time in a large enough volume to use computer graphics.
Basic engine "Kalina" — : VAZ-221114 with a working volume of 1.6 liters, meeting the Euro 3. Transmission — mnogoyarusnyi synchronizers, which substantially facilitate switching, and solenoid lock reverse gear.
Front suspension — McPherson-type with suspension struts on conical springs. Beam rear suspension — the same as cars "tenth" family.
Steering — rack and pinion with electric power steering: past first installed on the domestic production car.
The front brakes are disc, ventilated, rear — drum. The brake system uses a 9-inch vacuum booster — same as the BA3-21213 "Niva".
The car has a strong and rigid safety cage and safety bars in the doors. The machine is equipped with three-point seatbelts with pre-tensioners for the driver and all four passengers.
VAZ-2118 Kalina: length 4040 mm, width-1676 mm, height 1500 mm, the base of 2470 mm, track 1430/1410 mm, ground clearance 160 mm kerb weight of 1070 kg, engine power 80 — 88 HP, fuel consumption in urban cycle is 8.8 litres/100 km, fuel tank capacity is 50 l of petrol AI-95.
Recommend to read
THE HAMMER-WEDGE
Each of us happened more than once to dismantle many firmly downed wood planks or boards. Great helper in this work, the hammer-wedge. They are on sale. In principle, any hammer can be...
ASP-3: SNOWMOBILE FROM UFA
"In the past I Aviator, wrote the Director of station of young technicians Ufa refinery P. S. Astashkin, and for obvious reasons I wanted to build a snowmobile that resembled a plane....