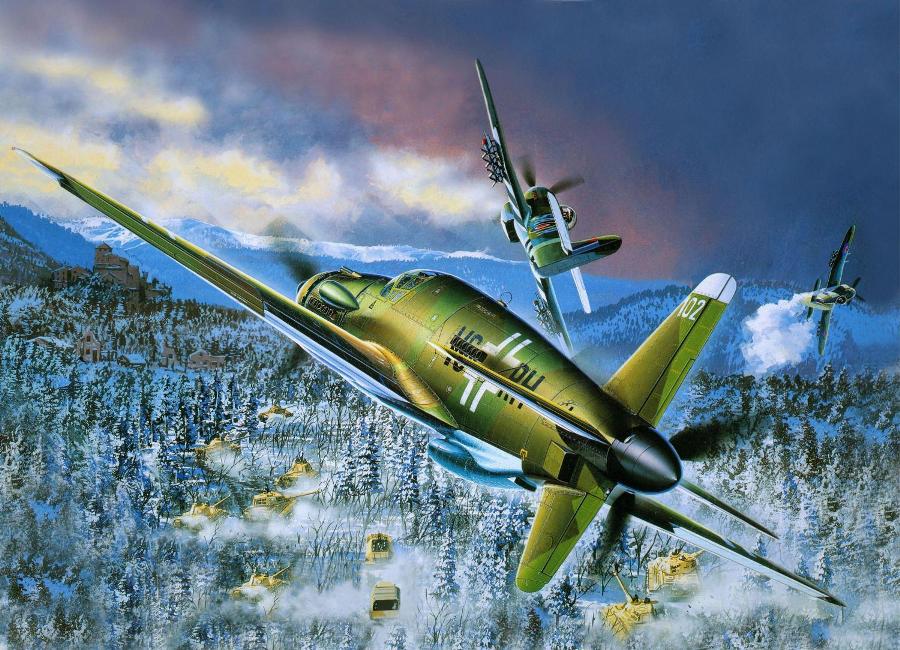 This unusual aircraft built for the Luftwaffe by the famous German firm Dornier, which had its first flight in September 1943, became the fastest piston fighter in Germany. The maximum speed that was able to develop this aircraft at an altitude of 6400 metres, made up of 763 km/h!
The reason for such a high performance data — an unusual layout. The power plant of the aircraft consisted of two piston engines DB-603F-2 of Daimler-Benz with a capacity of 1770 HP the location of the motors was not traditional — they were located in the nose and tail of the aircraft. With the rear motor had a long shaft, resulting in rotation pusher propeller.
Speed DO-335 PFEIL was excellent, however, the time remaining until the end of the Second world war, to produce any significant series the firm failed. In the fighting the DO-335 PFEIL did not participate.
DO-335 PFEIL: wingspan 13 800 mm, height 5000 mm, the maximum speed of 770 km/h at 7000 m, the crew — one man, the power plant of two engines Daimler-Benz DB-603F-2 power 1770 HP in All there were 28 cars.
Recommend to read
STAIRCASE WITH… "BOWSTRING"
A lot of different equipment and tools required for the country, and especially subsistence farming. Not least among them is the largest ladder that I once needed, and quite long (or in...
TRICYCLE BUCKET…
Floor cleaning the process is quite tedious, especially when cleaning larger areas. A little easier it can, if to produce for a bucket of water special stand, equipped with three swivel...