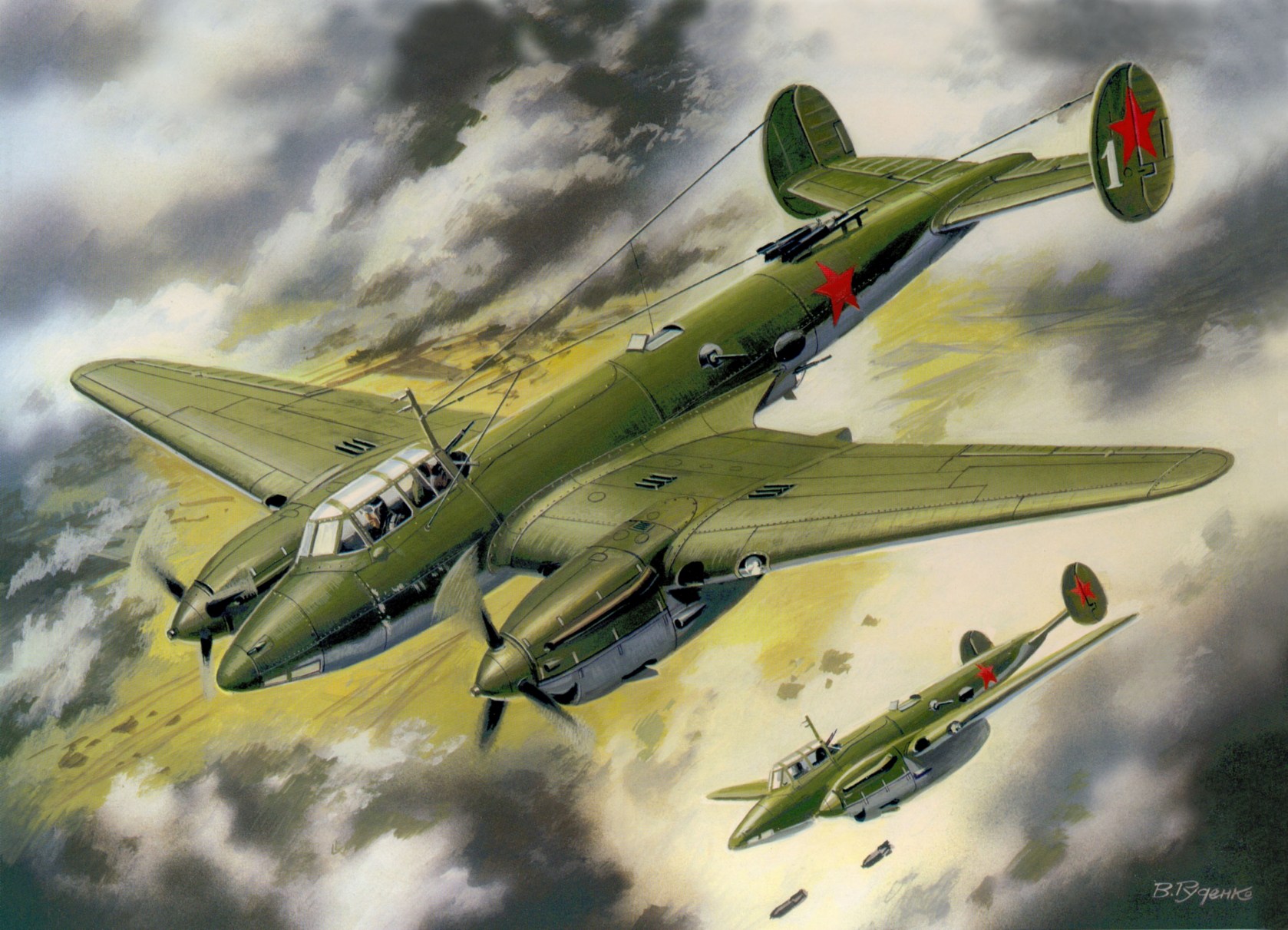 Dive bomber PE-2 was developed in OKB V. M. Petlyakov on the basis of previously established experimental twin-engined high-altitude fighter VI-100. The first production PE-2 was released in 1940, and in the first half of 1941, the aviation regiments transferred 458 cars.
Modernization of the aircraft is not deprived of his typically destructive qualities — up to 11-fold overload, the bomber could perform the full range of aerobatics and high speed and powerful defensive armament allowed him to fight on equal terms with enemy fighters.
The bomber PE-2 had a high accuracy of bombing and great survivability. Speed, agility and precision of PE-2 was superior to the machines of similar purpose of Nazi Germany.
PE-2 was a twin-engined all-metal aircraft-low with a clean aerodynamic shape, in addition to having a bomb powerful defensive armament. The fuselage is semi-monocoque, made of sheet duralumin is attached to the frame by rivets "wpoty".
The wing is two-spar, if necessary, the console is easily unlocked from the center. The stabilizer consisted of two blades, vertical tail fin — keel washers. PE-2 was equipped with engines M-105 located in the wing of water and oil coolers. Propellers — variable pitch. Chassis — double column, retractable.
Dive bomber PE-2: 690 length 12 mm, height 3925 mm, wingspan 17 120 mm; wing area 40,5 m2; engines, two M-105 with a capacity of 1100 HP normal takeoff weight of 7536 kg, maximum takeoff weight of 8,500 kg, the empty weight 5863 kg; maximum range 1200 km; the maximum speed of 540 km/h; ceiling 8800 m.
Recommend to read
TABLE – KOSTRYCHA
"The smoke of a fire creates a cozy atmosphere", says the tourist track. Bring the magic of an open flame unites and unifies the audience by the fire people. In this sense, on a country...
MODELIST-KONSTRUKTOR 1989-05
CONTENTS: V. Kondrat'ev. The winged relic (1). ENEA - young innovator: (2). Public KB "M-K": Y. Anosov. Cars for kids course (4); Krylov. Motorcycle... portfolio (6). May 9...